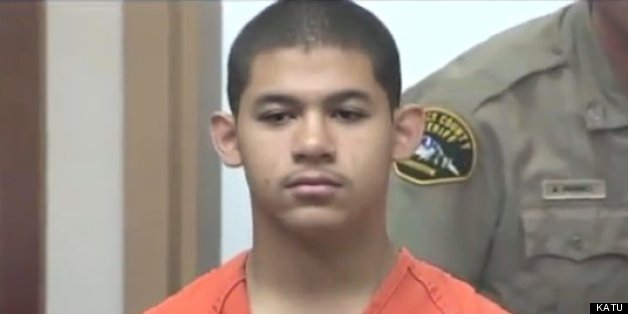 Two teens lured a boy into their home and brutally murdered him over a little cash and handful of marijuana.
The gruesome allegations became fact on Monday when Luis and Cristobal Arroyo -- 17 and 15 -- pleaded guilty to first-degree murder in the death of Hector Hernandez-Valdez.
The 15-year-old was killed in June last year in Washington State.
Luis Arroyo was sentenced to 26 years in prison, and his younger brother was sentenced to 24, KING 5 News reports.
"This is a horrible, adult-sized crime, and it's appropriate and just that the older brother be prosecuted and held accountable in the adult system," Pierce County Prosecturo Mark Lindquist told KATU.
On June 1, 2012, Luis Arroyo invited the victim over to his house in Tacoma, where the two got in a fight. Cristobal Arroyo heard the struggle and witnessed the two battling over a knife. Cristobal stabbed Hernandez-Valdez in the neck and back, and the brothers dragged him to the bathtub.
While Hernandez-Valdez was still alive, the brothers stabbed or cut him 34 times, prosecutors said. The victim also had 60 small puncture wounds on his back and his skull was fractured, meaning he was likely attacked with a bat or hammer. Then the pair cut his throat in the bathtub.
The boys' mother found the victim's remains on a bed sheet, and drove to a nearby police station, according to KOMO.
Police say Luis Arroyo and Hernandez-Valdez had been fighting over $166 and less than 40 grams of pot.
Luis was automatically tried as an adult, and a judge granted a motion that Cristobal be tried as an adult, too.
BEFORE YOU GO