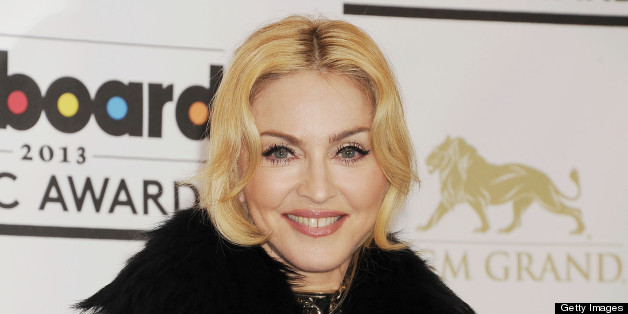 Madonna says she's not working on any music yet and just finished her MDNA tour DVD.
The singer -- who scooped up the Billboard Music Award for Top Touring Artist on Sunday -- revealed that the DVD was quite the task, hardly a surprise given the global trek saw Madonna perform for over 2.2 million adoring fans. In a backstage interview at the BBMAs, Madonna said that's kept her busy: "I just finished editing the DVD of my ('MDNA') concert, so I haven't had any free time."
Fans shouldn't worry too much about Madonna. The singer is doing well enough to graciously pass the $7.2 million she made by selling a single piece of art to the Ray of Light Foundation, which helps provide education to women in Afghanistan, Pakistan and other nations. The Fernand Leger piece was expected to bring in about $5 million. Madonna said she wanted to "trade something valuable for something invaluable," and appears to have done just that.
Here's more on the MDNA tour, via Billboard:
The globe-trekking MDNA Tour was 2012's highest-grossing trek and the 10th-biggest tour of all time according to Billboard Boxscore. It played 88 shows on four continents to over 2.2 million attendees. The tour supported her 2012 studio album "MDNA," which debuted at No. 1 on the Billboard 200 chart.
Fans and detractors will remember that the tour -- like most things Madonna does -- was not without controversy. She upset Coloradans by brandishing fake guns on stage soon after a movie theater shooting, stripped down for Obama and Pussy Riot, flashed a nipple in Istanbul and generally played provocateur in each of the 88 concerts.
PHOTO GALLERY
Madonna Through The Years
BEFORE YOU GO