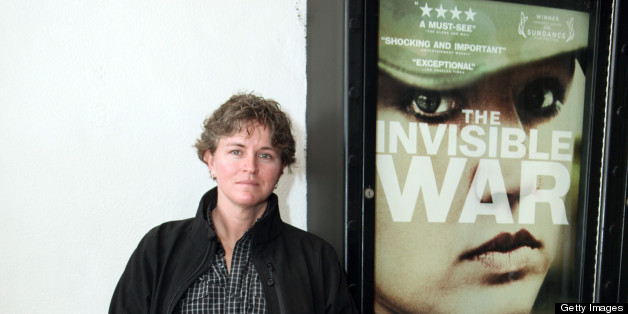 Navy veteran Trina McDonald, a survivor of rape during her service, is calling on Congress to amend the Uniform Code of Military Justice by moving the decision to prosecute military sexual assault out of the chain of command.
In a MoveOn.org petition titled "Raped In The U.S. Navy: Protect Survivors Of Military Sexual Assault," McDonald states that rape should never be an "occupational hazard." The petition calls on the U.S. Senate to address the recent increase in military sexual assaults by making revisions to the military justice system. She will deliver more than 113,000 petition signatures to members of Congress on Wednesday.
McDonald recently recounted her nightmarish experience in the military, telling Texas-based KCEN that she'd been repeatedly assaulted by "higher-ranking officers."
While in the Navy, Trina says she was repeatedly drugged, raped and ultimately dumped into the Bering Sea by superior officers.

She says she kept silent for 20 years, because both police and her superiors were the perpetrators, and she had nowhere to turn.
The issue of sexual assault in the military gained newfound attention this month after Jeffrey Krusinski, an official in charge of a program to prevent such crimes, was himself charged with sexual assault. Later in May, the sexual assault program manager in Fort Campbell, Ky., was arrested in a domestic dispute and relieved of his post. The coordinator of the sexual harassment and assault prevention division in Fort Hood, Texas, was also placed under investigation after being accused of sexual assault and maltreatment of subordinates.
According to a Pentagon report released earlier this month, military sexual assaults rose to 26,000 in 2012, averaging about 70 per day. Most military sexual assaults still go unreported.
President Barack Obama has called military sexual assault a "betrayal" and has pledged to take action to combat them.
BEFORE YOU GO
PHOTO GALLERY
The Faces Of Military Sexual Assault