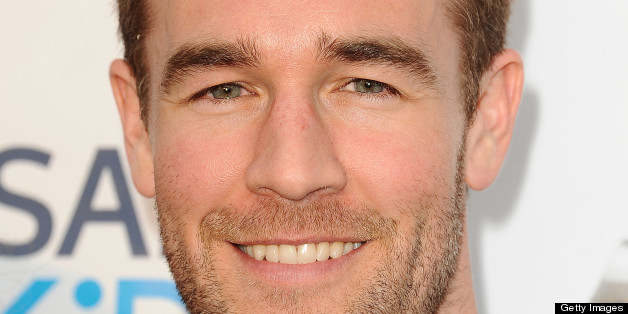 The final eight episodes of "Don't Trust The B---- In Apt. 23" have surfaced on Hulu, and although star James Van Der Beek has already moved on to CBS' new midseason sitcom "Friends with Better Lives," the actor admits that his experience on the short-lived ABC comedy was a positive one -- especially since it finally helped him lay his "Dawson's Creek" typecasting to rest.
'It absolutely, I think, took me out of one mold that I'd been in for a while. It's tough to compete with something that was the cultural phenomenon that 'Dawson's Creek' was," Van Der Beek told Vulture in a recent interview. "It ran for so long. That's a lot of hours playing one character in front of people. So it's natural that they associate you with that. And also the nature of television, you're in their living room, so it's even more immediate. I wish I could say it was a calculated, intelligent decision, but it really was just something that I thought was funny, that I hadn't really done before, and there were just great people involved. In terms of what it did for me? It was an opportunity to do comedy on a regular basis. Which I really enjoyed. I feel like walking down the street, I do get called "Dawson" a lot less these days. So maybe that's a measure of what the show did. Now when people mock me on the street, they use my real name."
Van Der Beek told Vulture that he took a lesson from "How I Met Your Mother" star Neil Patrick Harris, who had some experience spoofing himself after turns in the "Harold and Kumar" franchise as "Neil Patrick Harris," an exaggerated version of his persona.
"It's funny, I remember the first time I did an episode of 'How I Met Your Mother,' I was talking with Neil Patrick Harris. And Neil said something about, 'Have you learned how to have fun with the whole image, really lampoon it?' At the time I said, 'Oh, yeah, I was doing that even while I was on the show.' And he kind of said, 'Okay,' and nodded," Van Der Beek recalled. "And cut to [laughs] me on the FOX lot really lampooning the image. It's just fun to stay in the game. And I think that's probably the most important thing for an actor, especially one with some success in the past. Just stay in the game. And that's what 'Apartment 23' allowed me to do."
Despite the sting of cancellation, Van Der Beek thinks the series will stand the test of time. "I'm really proud of it, which might sound funny because it was so ridiculous, but I really loved it," he told The Huffington Post in April. "So at the end of the day, I flash forward to three, five years from now, all the episodes will be available at some point, somewhere digitally and you can watch them in order. I said to the cast when I found out that we weren't going to make anymore, 'From this moment forward, this is no longer a cancelled show; this is now 26 episodes of awesome that we can all be proud of of.' It was one of things that, on a network level, nobody could really figure out how to program it so that it worked in their business model, but it's something that I still hold dear to my heart and I love all the people involved."
Now, Van Der Beek is looking ahead to CBS' "Friends with Better Lives," in which he plays gynecologist Will, "a newly divorced guy, just four or five weeks out of separating and just starting to come to terms with the fact that his marriage is over. And he's got this support group of five friends who are helping him through it, two of whom have been married and have two kids, one of whom is perpetually single and then another one who just got engaged."
For more from Van Der Beek, including the correct way to watch "Apt. 23" on Hulu, click over to Vulture.
PHOTO GALLERY
Actors Who Can't Escape One Role
BEFORE YOU GO