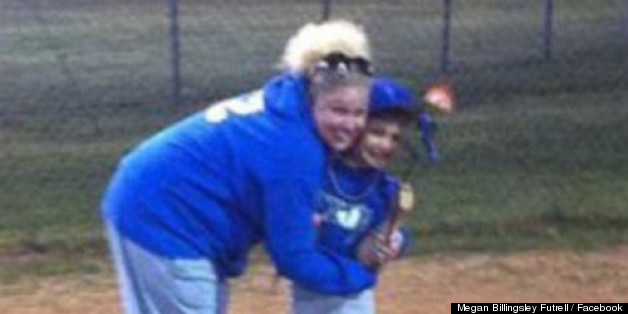 Ten children, two of them just infants, are among those who have been confirmed dead after a mile-wide tornado tore through central Oklahoma on Monday and devastated the town of Moore, according to the state's office of the chief medical examiner.
In a statement provided to The Huffington Post by email, the office released the names and ages of the victims and confirmed that the death toll stands at 24.
"Our hearts go out to all the people affected by this tragedy," the statement reads. "The ME staff worked throughout the night and yesterday in coordination with state and federal agencies to identify victims and document injuries."
Many of the victims died from blunt force trauma, or from asphyxiation. The full list with the names and ages of the victims whose identities have been released are as follows:
Terri Long, 49
Megan Futrell, 29
Case Futrell, 4 months
Shannon Quick, 40
Sydnee Vargyas, 7 months
Karrina Vargyas, 4
Jenny Neely, 38
Antonia Canderaria, 9
Kyle Davis, 8
Janae Hornsby, 9
Sydney Angle, 9
Emily Conatzer, 9
Nicolas McCabe, 9
Christopher Legg, 9
Cindy Plumley, 45
Deanna Ward, 70
Rick Jones, 54
William Sass, 63
Gina Stromski, 51
Tewauna Robinson, 45
Randy Smith, 39
Leslie Johnson, 46
Hemant Bhonde, 65
Richard Brown, 41
UPDATE: 5/23 10:07 a.m. This list has been updated to reflect the additional names the medical examiner's office released to The Huffington Post upon identifying all of the victims.
PHOTOS of identified victims:
PHOTO GALLERY
Moore Oklahoma Tornado Victims
For continuing coverage of the tornado aftermath, visit HuffPost Green. Click here to find out more about how to help those affected.
05/23/2013 12:46 PM EDT
Oklahoma Governor: Missing Have Been Accounted For
All people thought missing have been accounted for at this time.

— Governor Mary Fallin (@GovMaryFallin) 2 years ago
05/23/2013 12:43 PM EDT
Oklahoma Governor Posts Update
Updated fatalities, deaths and missing persons:

The 5/20 tornado has lead to:

377 injuries

24 deaths.

— Governor Mary Fallin (@GovMaryFallin) 2 years ago
05/23/2013 6:26 AM EDT
Volunteer Shows Dedication To Helping Tornado Victims, Rescuers
Shaunta Strong has worked 2 days straight. Making sandwiches for victims & first responders. twitter.com/KatyJBlakey/st…

— Katy Blakey (@KatyJBlakey) May 23, 2013
05/23/2013 4:58 AM EDT
Rough Weather Forecast To Hit Tornado-Ravaged Region
Storms with dangerous lightning/small hail/downpours expected near OKC metro through at least 9 am. #okwx

— NWS Norman (@NWSNorman)
05/23/2013 2:05 AM EDT
Okla. Mom Recalls Being In Labor During Tornado
While the Moore Medical Center crumbled around her on Monday afternoon, Shay-la Taylor was in labor with her second baby boy.
The mom-to-be knew about the severe weather watch as she checked into the hospital to be induced at 9 a.m. that morning, but says she wasn't really nervous.
"We're used to tornadoes and sirens," the 25-year-old mom told HuffPost in a phone interview. "If you freaked out every time you heard a siren, you'd have an anxiety attack every May in Oklahoma."
Click here to read the rest of her tale.
--Farah L. Miller
05/23/2013 12:47 AM EDT
Sheriff's Department Offers View Inside Plaza Towers Elementary
Plaza Towers Elementary where 7 children died from the #tornado.We pray their families one day find peace. #okcoso twitter.com/OkCountySherif…

— Oklahoma Co. Sheriff (@OkCountySheriff) May 23, 2013
05/22/2013 11:37 PM EDT
California Cupcakery Holds Fundraising Event For Oklahoma
Sprinkles Cupcakes in Los Angeles plans to donate all of the proceeds from their (ever-popular) Red Velvet cupcake sold on May 22 to support Oklahomans affected by Monday's tornado.
"As a native Oklahoman with my parents and brother still living in Oklahoma City, I am especially heartbroken by this devastating tragedy," Charles Nelson, co-founder of Sprinkles, stated on Facebook.
For more, click here.
--Sasha Bronner
05/22/2013 11:07 PM EDT
PHOTO: Kevin Durant Tours Tornado-Ravaged Moore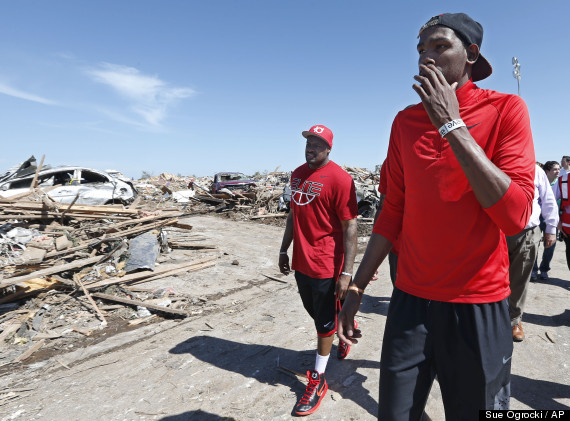 Basketball player Kevin Durant viewed tornado-damaged homes in Moore, Okla., on Wednesday. The Oklahoma City Thunder star also donated $1 million to the American Red Cross for relief efforts. The Thunder later matched the $1 million donation. (Sue Ogrocki / AP)
05/22/2013 10:56 PM EDT
Mail Service Alternatives Offered In Storm-Damaged Areas
The post office branch in Moore, Okla., was one of the thousands of buildings damaged or destroyed by Monday's twister. To help residents impacted by the disaster, the US Postal Service is setting up mail service alternatives in the area, News9.com reported.
Some of the options being offered include held mail, portable post offices and delivery service through an alternative office nearby. Letter carriers will also attempt to deliver mail wherever possible.
Click here for more.
BEFORE YOU GO