Peter Jackson and his crew are returning to Middle-earth one last time, according to a new post the director wrote on his Facebook page. Jackson unveiled a lighthearted photo of himself and Ian McKellen, dressed as Gandalf, on the set of the "Hobbit" series.
Jackson wrote the following message to accompany the photo:
Back on set for our last Hobbit pick ups. Our last ever Tolkien pick ups, in fact. It's going to be an intense few weeks, but we're looking forward to shooting some powerful scenes with our great cast. Our next blog is coming soon!
Jackson and the gang are presumably filming scenes for the third entry in the "Hobbit" series, "There and Back Again," which bears the subtitle of the relatively short novel upon which the bloated trilogy is based. Both "There and Back Again" and the series' second movie, "The Desolation of Smaug," are currently in post-production.
In March, Jackson premiered brief footage from "Smaug" during a six-minute video in which he answered fans' questions and previewed concept art from the movie. The second entry is slated for a Dec. 13, 2013, release date, while the third will hit theaters Dec. 17, 2014.
"The Hobbit: An Unexpected Journey," the first in the 3-D series, garnered somewhat mixed reviews, largely because of its accelerated frame rate and 169-minute length. Regardless, the movie nabbed more than $1 billion at the box office worldwide, making it the fourth highest-grossing film of 2012. The only one of Jackson's Tolkien-inspired movies to top that figure was "The Return of the King," which raked in $1.1 billion.
See the full shot of Jackson and McKellen paying Middle-earth a final visit: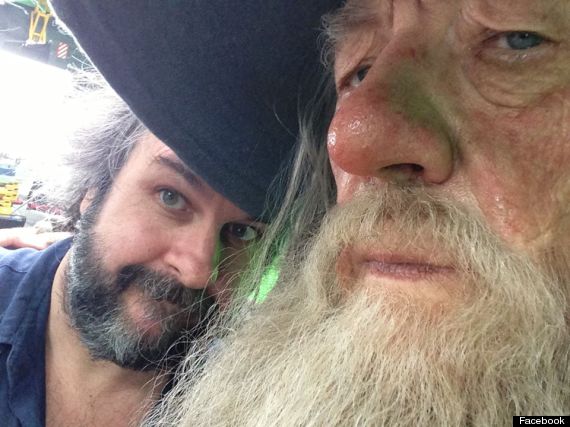 BEFORE YOU GO