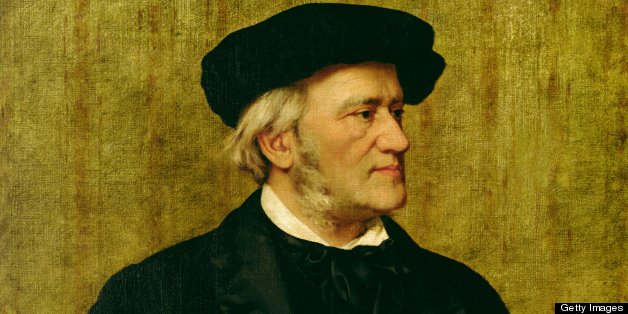 Today is the birthday of the famous and controversial German composer, Richard Wagner. Known for his numerous operas (as well as his anti-Semitic views), the mastermind behind works like "Tristan and Isolde" and "Tannhäuser" would turn 200 years old if he were still alive today.
Born in Leipzig in 1813, Wagner lived a life in the spotlight, whether he was premiering blockbuster dramas at concert halls across Europe or palling around with historical figures like King Leopold II. Drama seemed to follow the composer wherever he went, from his tumultuous marriages and affairs to his extreme political views. Yet amidst celebrity and infamy, Wagner managed to produce 113 works, listed in his Wagner-Werk-Verzeichnis (WWV) catalog. Two centuries later, symphonies and opera singers are still performing his pieces.
To celebrate Wagner's 200th birthday, concert halls across the world are hosting homages to the controversial musical great. In addition, New York Public Radio is presenting an hour-long special titled "Clash of the Titans: An Exploration of Verdi & Wagner," which will air on 105.9 FM and at WQXR.org today.
For our part, we've put together a slidehow of facts about Wagner's life. Scroll through the slides below and let us know how you are celebrating the bicentennial in the comments.
PHOTO GALLERY
10 Things You Might Not Know About Wagner