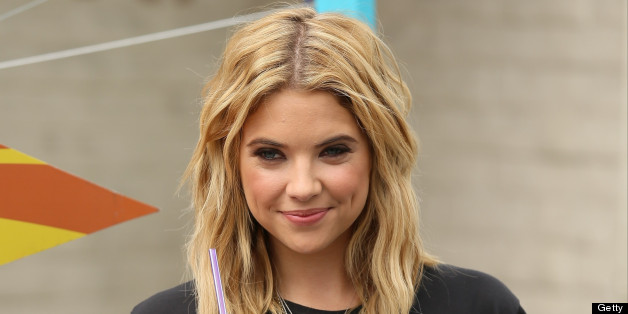 These days, our knowledge of celebrities too often originates with paparazzi images and snarky quotes by anonymous "insiders." After a while, it's easy to forget that stars are real people. That's why HuffPost Celebrity decided to launch its all-new #nofilter quick-fire question-and-answer series. Because how well do you know someone until they've shared their guiltiest pleasures?
Ashley Benson has been known as scene-stealer Hanna Marin on the ABC Family hit "Pretty Little Liars" for the past three years, and more recently ventured into edgier territory with Harmony Korine's "Spring Breakers."
While helping 7-Eleven kick off the season by taking the ceremonial first Slurpee sip of summer Wednesday, Benson, 23, chatted with HuffPost Celebrity about summer beauty secrets, devout "PLL" fans and why you can't believe everything that you read.
Have you always been a Slurpee enthusiast?
Yeah, I've been having Slurpees since I was really young. My dad gets his coffee at 7-Eleven, so I've always been getting Slurpees. My friends like them as well, and they're a good drink for the summer.
What's your gulity pleasure?
Ice cream.
What's one item that's always in your refrigerator?
Ice cream. You can always find bottles of water, almond milk and ice cream.
How do you stay in shape and keep up that "Spring Breakers" body?
I'm trying to get in shape at the moment, so I guess just having a trainer, trying to eat healthier, SoulCycle, maybe some yoga -- even though I haven't done it before, I'm going to try it.
What's your summer beauty staple?
A great moisturizer. Chanel has this amazing luminiscent foundation that makes your skin really glowy -- it's really cool for summer. I love long skirts, Slurpees, the Slurpee Lite Sugar Free Sprite flavor. It's only 20 calories, there's no sugar -- great for that bikini body. That's a good summer must-have.
What are you most looking forward to this summer?
Being tan. I'm going to Europe, so I'm looking forward to that.
What's the dumbest thing you've read about yourself?
That I'm dating all of my friends. Every time I'm hanging out with Tyler [Blackburn], Keegan [Allen], my friend Isaac, my friends who are girls, I'm dating all of them. It's very strange. I have a new boyfriend, a new girlfriend every week. But I'm single and I don't have a boyfriend.
"PLL" has a pretty intense following. Any crazy fan stories?
Not really. I'm waiting for the fans to get a tattoo of me on them. Shay [Mitchell] gets that a lot. And I haven't had that yet, so I'm jealous [laughs]. Maybe if I put it out there now: "Hey, get tattoos." But nothing too crazy.
Who would you rather be stuck with in a crisis, the "Spring Breakers" gang or the "Pretty Little Liars"?
"Spring Breakers," just because of what we have to do in the movie.
You're kind of a queen bee in both. Do you ever feel like that in real life? And do you travel exclusively in groups of four females?
Ha -- no. I love hanging out with guys. I have girlfriends too, but I'm more of a tomboy. I don't really like all of that. I'm very laid back and kind of quiet. I've never been the queen bee, nor will I ever.
What's been the most awkward "Pretty Little Liars" scene to film?
I guess the first time Tyler and I had to have a love scene, that was awkward because he was newer to the show, but ever since then it's great. I've never really had an awkward scene on "PLL."
What's the silliest thing you've ever lied about?
My weight. "I weigh 99 pounds."
What's your go-to excuse?
My dog needs me. I need to go walk my dog.
What's your dating deal-breaker?
If a guy doesn't make me laugh, I just can't. I'm such a goofy person. I love to mess with people. I love to make fun of people. He has to make me laugh or else it's not going to work out.
You've tweeted about "Girls." What other shows are always on your DVR?
I don't really watch TV. "Girls," of course, that's the one show I watch. But I don't have time to watch TV and I don't like watching TV. I love Lena and I love that show. And "Arrested Development" is rad, and "Breaking Bad" -- I watch those on Netflix.
What's one thing from your childhood wardrobe that you wish you could wear now?
Oh my god, nothing. My mom dressed me like a princess and I'm very laid back. Maybe these sweet spandex leggings that I used to wear. Or those bike shorts with jellies and a rad tank with that little clip that pulls your shirt up. And chokers and butterfly clips and body glitter from Limited Too. I want to bring all of that back at this age: At 23, I'm going to rock that.
BEFORE YOU GO
PHOTO GALLERY
Ashley Benson