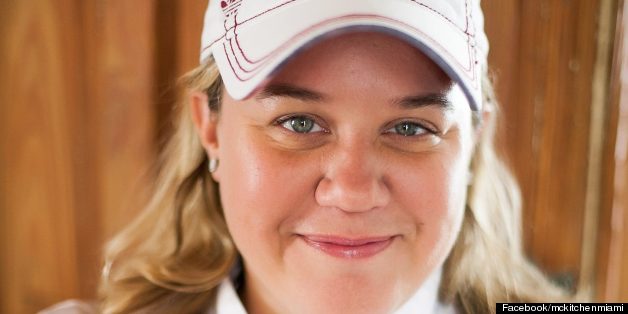 What's left to say (or sing) about Dena Marino? The well-known chef made her mark in Aspen before moving to Miami, collecting accolades and Food Network appearances along the way. She's since found a home in the Design District, opening the critically acclaimed MC Kitchen in the former Fratelli Lyon space and turning its light-filled dining room into a sophisticated yet whimsical playground for modern rustic Italian.
Try the brunch, trust us! And get to know this extremely busy bella chef below.
Years in Miami:
Almost three.
Current neighborhood:
I live in Miami Beach.
What's your idea of a perfect day in Miami?
A perfect Miami day for Miami is being out on the water on a boat or jet-ski, followed by mojitos at sunset with great company -- my husband Marcus and son Cash.
Prefer 395 or 195?
195, 100 percent.
Where do you take out-of-towners?
I would take them on a day trip to Key Biscayne.
What are three local meals you can't live without?
Stone crabs and Key Lime pie at Joe's Stone Crab; Chopped Salad from The Forge; and the Grilled Hanger Steak with Sliced Leek, Chutney, Tomato Jam and Tostones and Local Red Snapper with Nut and Seed Crust, Sweet and Sour Jus at J&G Grill.
What trendy dish are you really sick of?
Sorry folks, but fried chicken!
What's a typical day like for you?
At 7a.m. I am woken up by my five-year old son Cash and I make him breakfast -- he usually requests pancakes. I'm showered, dressed and out of the door by 8:15 a.m. to drop Cash off at school. I arrive at MC Kitchen and my first priority is getting my espresso (double head) at Mercato, which is already open for the morning breakfast rush. I check in on the staff and go over the day's prep lists. Next, I evaluate what ingredients we have and create specials for the lunch and dinner menus. I'll check my voicemail and emails and will coordinate the catering events and private dining room requests.
At 10:45a.m., I hold a pre-service meeting with the waitstaff and we get ready for our 11a.m. lunch service. I do a walk-through of the stations and prep with the cooks on the line. Time for some fresh air! I take a quick walk around the property (garbage areas, etc.) and check in with the valet services. Now, it's time to jump back on the line and execute lunch service.
After lunch, I have a quick meeting with my sous chef and managers about the day's events, the evening ahead, upcoming events and any menu adjustments. Next, I order the ingredients for the next day's deliveries. Our new bar bites menu starts at 4:30p.m. so I make sure everything is ready for service and do a second walk-through of all the stations.
At 5:15p.m. I hold another pre-shift meeting with the servers to go over the menu, any special reservations, etc. Before service starts, I check in with Cash via phone or if I'm really lucky, I'll get a surprise visit to share a hug, a kiss and a pizza! During dinner service, I'm cooking on the line, but I also like to visit my guests and make sure everything is to the customer's liking. At 11p.m. service ends and I escape to the office to do a little paperwork before home.
Ah; finally home! I jump in the shower and then snack on cereal, PB&J sandwiches or my new favorite snack -- Triscuits and cheese. Before bed I check my emails, Facebook and Twitter. If I'm lucky, I have time to have a conversation with my husband before we both fall asleep. Five minutes later, the alarm goes off!
The Black Truffle Bruschetta on your brunch menu is one of the best things we've ever eaten. What's the key to a good poached egg?
To achieve a perfectly cooked egg, the water temperature must be at 63 degrees.
Who influenced your love of food most?
My family -- especially my grandparents.
Do you have a food guilty pleasure?
Ice Cream!
Why do you love Miami?
I love the diversity, weather and beach.
Why do you hate Miami?
Miami appears to have attracted the world's worst drivers!
In a word or two or three, Miami is...
Beautiful, fun and the next big city.