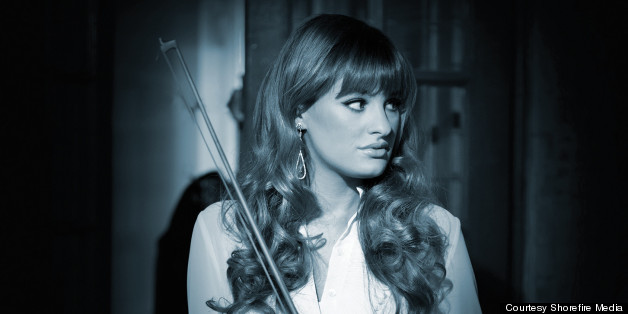 Talking to Nicola Benedetti can feel like an exercise in converting from dog to human years. Such is the case with someone who was so promising a violinist at age four that she was training under the best exponents in the world, including one of her idols, Yehudi Menuhin, by the time she was ten. Today, the Scottish sensation is 25 and playing for the Queen of England. Ask her if there was ever a time she felt discouraged professionally, and she'll come back with an era dated "when I was around eight."
There's also the disconcerting feeling that one is perhaps in conversation with a secret pop star, a sort of Hannah Montana during school hours situation. Benedetti's latest album, "The Silver Violin" -- a tribute to Hollywood scores with some heavier fare snuck in, like vegetables into a smoothie -- skyrocketed to number three on the UK pop charts last year, outselling even Justin Bieber's "Believe" in the British market. And next month, she and her $10 million-ish Stradivarius head to another atypical spot for a soloist: the vast new America's Cup Pavilion in San Francisco, a waterfront theater sized for rock stars, at 9000 seats. Benedetti and the San Francisco Symphony (with whom she'll perform) hold the distinction of being the only classical act in a summer lineup bookended by Sting and the Jonas Brothers.
Given all this, we couldn't think of a better addition to HuffPost's On Our Radar series, in which we pose five set questions to artists who work in the intriguing overlap between mainstream and critical success. On Wednesday, we called Benedetti in London, where she'd just wrapped up a concert at Buckingham Palace. As one does! She told us why she thinks she's come as far as she has, and why popularity sometimes matters.
The Huffington Post: Who or what influenced your early musical tastes?
NB: For classical musicians, it's always going to be your teacher. It very much was for me, because I didn't come from a musical family. It wasn't until after the age of ten, when I moved to music school, that I started to develop my own tastes in terms of musicians I listened to. They were all old style violinists, from Yehudi Mehunin to [Jascha] Haifetz and [Nathan] Milsten. And of course, [Itzhak] Perlman and [Pinchas] Zukerman.
HP: What have been the highest and lowest points in your career so far?
NB: Genuine high points, where I feel most exhilarated, are very difficult to quantify. It would never be like, when I sold X amounts of records or anything like that. Nothing exterior. Usually it's just when I came offstage and I thought I played better than I ever managed to play before. I felt that way when I won the BBC [Young Musician Of The Year Contest] when I was 16. That was a great moment for me because of course being able to play well under pressure is a big challenge. I would say from then on, a lot of my best experiences have been the most unglamorous ones: playing in a small church rather than a huge big concert space.
A low point, I would say, was when I was worked far too hard. My diary was just filled up, with nobody really helping me protect it. And I, through lack of experience obviously, doing it all for the first time, hadn't realized how easily all that could happen. It was difficult for me to fulfill all those commitments. This was when I was around eight or nine. It didn't last for very long because I basically tried to cut down on everything, and do a lot less, and rejig my whole idea of how much is possible.
Watch Benedetti play a soulful set of everything from John Williams to Johann Sebastian Bach for NPR's Tiny Desk concert series:
HP: How would your childhood music teacher describe you, say, in a letter to your parents?
NB: I reckon I was always very hard working, at the violin. As far as I know, I asked quite a lot of questions. That's what people tell me anyway. I was extremely curious to know how you did everything, and almost a little impatient to learn it all.
My passion for the music and my love for the violin was something teachers always commented on. A lot of other students, they would say, focused very hard on the technical aspects, or were very competitive. The connection to what I played always came through the actual music, rather than just playing the violin really well.
HP: Are you obsessed with anything right now aside from your work?
NB:A book that I was reading recently spurred me on to a whole lot of thoughts, and just focused my mind. It's called "Why Equality Is Better For [Everyone]."
HP: Why does your latest project -- the Tchaikovsky performance in San Francisco -- matter?
NB: Because it's the first classical performance to take place in that arena, which is a 9000-seater, with mostly pop performances. That's a really exciting first step, a progression. I'm always trying to make sure classical music has exposure in places people wouldn't necessarily assume that it fits. That's very important to me.
HP: This is an extra question, we know, but we have to ask. Why do you think you in particular have been so resonant with a mainstream audience?
NB: I don't know, but there are lots of potential reasons. I've always had an equal desire to perfect what I do -- to be serious about the actual act of playing classical music -- as I have to share that with everyone else. To take it out into the world. I think you have to really want people to know about music and want to share it, especially for a classical musician, because our music doesn't shout that loudly to huge audiences.
HP: Do you think your ability to make it "shout" is related to what you talked about earlier, that passionate quality your teachers noticed?
NB: I think it has a lot to do with it, yes. It's a bit like if you're eating a meal and you just want to share it with everyone because you think it tastes so good. You're desperate to let everyone else experience it.
BEFORE YOU GO
PHOTO GALLERY
Musical Prodigies