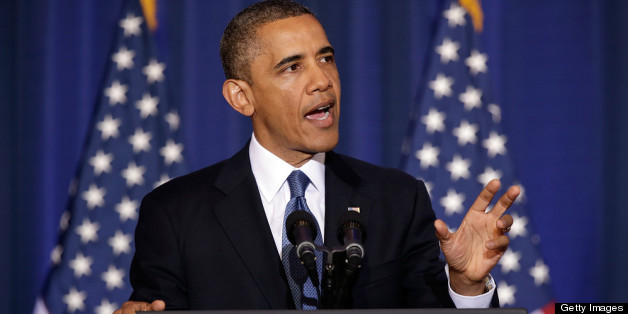 Echoing the words of critics like Sen. Rand Paul (R-Ky.), President Barack Obama promised Thursday to revise and ultimately repeal a 2001 military force authorization law that he worries could lead to "a perpetual war" that "will prove self-defeating and alter our country in troubling ways."
But Obama set no firm timeline in Thursday's national security speech. Officials from the Department of Defense, meanwhile, seem to be as determined as ever to use the 2001 law, which was directed against al Qaeda and its allies, as the legal basis for the fight against a multiplying number of terrorist groups around the world. It's a sharp contradiction, critics argue, that shows the president's words will be hollow without presidential action.
"President Obama is right to say that we cannot be on a war footing forever -- but the time to take our country off the global warpath and fully restore the rule of law is now, not at some indeterminate future point," said Anthony D. Romero, executive director of the American Civil Liberties Union, in a statement.
At issue is the Authorization for Use of Military Force, passed just days after the Sept. 11, 2001, attacks. Written to be the legal basis for going after 9/11's perpetrators, its vaguely worded provisions have been stretched -- almost to the breaking point -- in the 12 years since. The AUMF is now routinely used as the justification for killing militants who hadn't even reached their teens when the 9/11 attacks happened, who are members of Yemeni or Somali extremist groups that hadn't been formed then, with drone technology that didn't even exist in 2001.
The Obama administration has apparently been having an internal debate over what to do about the law. Yet in a Senate hearing last week, Defense Department officials were clear in stating that they believed the AUMF meant they could operate from Boston to Pakistan, for the next 10 to 20 years. It could even be used, the Pentagon said, in new battlefields like Congo or Syria.
Critics have called on the president and Congress to revisit that law, worrying that it authorizes, in Paul's words, "a war without geographic limits and without end." After Obama's speech on Thursday, Rep. Barbara Lee (D-Calif.) reiterated her call to repeal the law, and Rep. Adam Schiff (D-Calif.) announced that he would introduce legislation to end the AUMF after a limited period of time.
But any repeal attempts may face stiff resistance in Congress. The chairman of the House Armed Services Committee, Rep. Buck McKeon (R-Calif.), told Wired that he was opposed to outright repeal. And some senators like Lindsey Graham (R-S.C.) may be interested in revisiting the AUMF only to expand its powers. Graham voiced his strong support for an expansive reading of the law in the Senate hearing last week.
While Obama acknowledged congressional concerns about the AUMF, his own speech was tentative about when he might actually get down to hashing out a new version of the law.
"I look forward to engaging Congress and the American people in efforts to refine, and ultimately repeal, the AUMF's mandate," he said. "And I will not sign laws designed to expand this mandate further. Our systematic effort to dismantle terrorist organizations must continue. But this war, like all wars, must end."
The contrast between the Pentagon's position and Obama's stated goals was "striking," Benjamin Wittes, a senior fellow in governance studies at the Brookings Institution, said in a blog post. He noted that if Obama really wanted to move the country off a war footing, he could do so today by declaring an end to the hostilities envisioned under the AUMF. In citing that law as the legal basis for drone strikes in the very same speech, Wittes wrote, the president showed that he will likely continue to use it until Congress legislates otherwise.
"To put it crassly," Wittes wrote, "the president sought to rebuke his own administration for taking the positions it has -- but also to make sure that it could continue to do so."
BEFORE YOU GO
PHOTO GALLERY
11 Paranoid Obama Conspiracy Theories