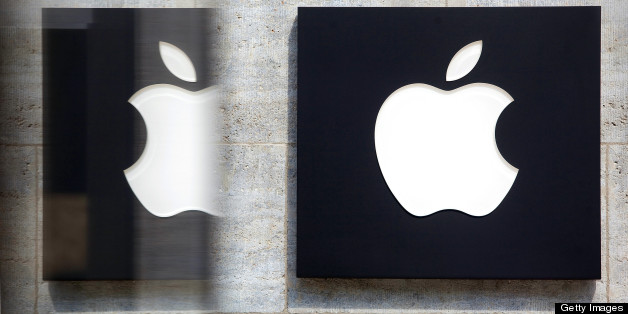 Apple's iOS 7 is coming, and the iPhone is getting a complete design overhaul, or so the rumors go. The main words used to describe the iPhone's new look are "black, white, and flat," according to 9to5 Mac, which again has a whopper of a report on what the new software powering the iPhone will look like. Though no one outside of Cupertino seems to have pictures yet, based on its description, it sounds an awful lot like a certain redesign Microsoft did to its software last year.
It seems like the new, modern look that Jony Ive, Apple's senior vice president of industrial design, has cooked up will make today's iPhones look tacky. Say goodbye to fake leather, yellow notepads, and wood grain; many aspects of the traditional iPhone look are going to be scrapped. 9to5 Mac reports that its sources at Apple are calling iOS7 "black, white, and flat all over." Similarly, in 2012 Microsoft cleaned up the designs of its Windows-powered phones, tablets and desktops with Windows 8 and Windows Phone 8, which has apps laid out as flat, clean squares.
Check out the entire report at 9to5 Mac to see some concept photos.
Previous rumormongering from 9to5 Mac and others indicated that Ive was going to put his mark on the new iPhone, and now we have some more details about iOS 7's new look. The lock screen is where the first changes will appear. The old grid that you type your passcode on will be replaced with round black buttons, and everything will be matte. Features like app icons are getting "flatter." No more fake shine, no more shadows, no more gradients. The apps themselves are getting a makeover as well. Built-in apps like Notes, Mail, and Calendar will look more uniform and will be mostly white.
Apple fanboys (not to mention shareholders) are likely anxious for something new from the computer maker. As Business Insider pointed out, 230 days will separate iOS 7's launch in June and the iPad Mini's launch in October -- the longest such gap in three years.
Though still one of the richest companies in the world, Apple has its rivals snapping at its heels. Google has been stunning techies with Glass and its other new releases, and Samsung announced Thursday that the Galaxy S4 sold 10 million units in "record" time. Sales of Windows 8 computers have been fine and sales of Windows Phone 8 smartphones are growing, but Microsoft likely isn't pleased Apple may take its style.
BEFORE YOU GO
PHOTO GALLERY
The Most Unnecessary iPhone Accessories Ever Made