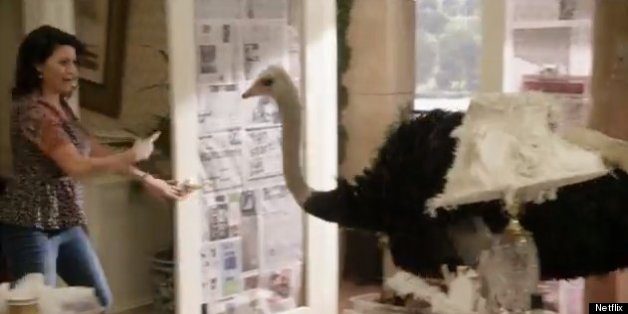 Season 4 of "Arrested Development" hits Netflix in just two days. And while re-watching the first three seasons is entertaining, fans have been itching for a sneak peek of what's to come on May 26.
Netflix has granted wishes by releasing a new interactive "Arrested Development" poster, chock-full of Easter eggs. Locating them will unlock five clips of the new season of "Arrested Development," one of which has already been released.
To start your Easter egg hunt, click here.
If you're having any trouble, we've embedded the new "Arrested Development" clips below. Check them out!
In the first clip, the confusion between "bees" and "beans" causes a bit of a problem for George Sr. (Jeffrey Tambor) and GOB (Will Arnett).
Check out Maeby (Alia Shawkat) finding an interesting new pet, even though her mom "wouldn't even let [her] get a cat!"
In this next clip, we find out there's a new security system in effect at the Bluths.
Here is Lindsay (Portia de Rossi) learning to let go of material things.
And in case you missed it, below is the previously-released clip of Buster (Tony Hale) helping his mom Lucille (Jessica Walter) get away with having a cigarette in a non-smoking room.
Season 4 of "Arrested Development" will be available on Netflix on Sun., May 26 at 12 a.m. PT.
PHOTO GALLERY
Arrested Development Photos
BEFORE YOU GO