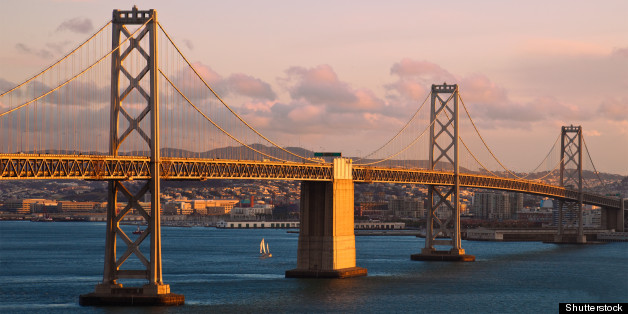 With the controversy swirling around the construction issues on the Bay Bridge and Thursday's collapse of the Skagit River Bridge in Washington state, many Northern California residents are pausing to think about the risks posed by the bridges they cross every single day.
And if the results of a recent report are correct, they have reason to pause.
A national report card on American infrastructure by the American Society of Civil Engineers found that the San Francisco Bay Area's nine counties boast 587 "structurally deficient" bridges and 713 bridges classified as "functionally obsolete."
(SCROLL DOWN TO SEE HOW THE BAY AREA RATES ON BRIDGE SAFETY)
"The American transportation system was built in the '50s and '60s with a projected 50 year lifespan and now the bill is coming due," said Clarke Barrineau, ASCE's manager of state public relations.
Barrineau said that, while the terms "functionally obsolete" and "structurally deficient" admittedly sound terrifying, the situation isn't quite as dire as it may initially seem.
"If a bridge isn't safe to drive on, it'll be closed to traffic," he explained. "If a bridge is rated as deficient, it just means that it has to be inspected on a much more regular basis due to risks coming from structural damage or regular wear and tear. Functionally obsolete bridges just aren't built to current standards."
While the number of problematic bridges across the country has decreased in recent years as an increasing number of repairs have been made, the report notes that the majority of the upgraded bridges were relatively small, leaving many of the larger, more highly trafficked bridges in a comparatively worse-off condition.
The Bay Bridge--with a newly constructed span that's already starting to corrode and is replete with bolts that some fear could snap in an earthquake--is currently listed as functionally obsolete, hence the state's efforts at renovating the iconic structure.
Other major Bay Area Bridges have their own issues. The Golden Gate, San Mateo and Dumbarton bridges are listed as functionally obsolete while the Richmond-San Rafael Bridge has been marked as structurally deficient.
Despite an uptick largely coming as a result of President Obama's recession-fighting stimulus package, American infrastructure spending as a portion of GDP is as its lowest level in decades and the budget cuts triggered by the federal sequester aren't making the situation any better. Three-quarters of all funding for transportation infrastructure comes from the government and the sequester's across-the-board five percent cut will undoubtedly hit many of these projects.
"We just do not have enough money for infrastructure," said Barrineau, pointing to projections that the federal Highway Trust Fund could run out of money as soon as 2015. "The need for sustainable, long-term funding is an urgent one."
Check out this slideshow detailing the number of functionally obsolete and structurally deficient bridges in each Bay Area county:
PHOTO GALLERY
Bay Area Bridge Report Card
BEFORE YOU GO