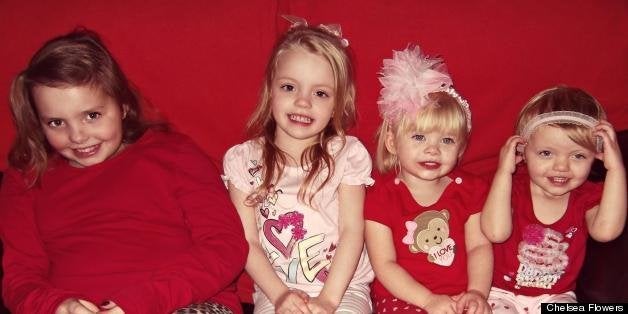 As part of our Blended Family Friday series, each week we're spotlighting a different stepfamily to learn how they successfully blended their two families together. Our hope is that by telling their stories, we'll bring you closer to blended family bliss in your own life!
This week, we're introducing Chelsea and Jeremy's family. Below, Chelsea shares what home life is like for the couple and their four kids.
Hi, Chelsea! Please introduce us to your family. How many kids did you and Jeremy each bring to your marriage?
Jeremy and I will celebrate four years as a couple and two years of marriage in November. Jeremy has two daughters from previous relationships: Ashton is nine and Addison is three. I also have a daughter from a previous relationship, her name is Rylee and she is four. Together we have a little girl named Kylin who is two.
We got together when my daughter Rylee was only five months old and his daughter Ashton was five. At the time, we were both aware that a woman he had been seeing was three months pregnant and that the child might be his. The following year I found out that I was pregnant with Kylin, and around the same time, we received the paternity results that Addison was his also.
What are the biggest challenges of blended family life?
Dealing with the other parents is not always easy. For instance, my daughter's father is mostly absent and only sees her twice a year. She does not really understand who he is and sees my husband as her daddy. It's sometimes hard to explain the situation to children that are so young. We also have different parenting styles and beliefs than the other parents, which sometimes leads to disagreements. Luckily, we have a good relationship with one of Jeremy's exes and interact with her and her family positively on a regular basis.
What's the best thing about being part of a blended family?
Growing up, I was an only child until I was 11 and that was very lonely. I love that our kids have each other to grow up alongside. The bond between sisters is strong and beautiful and I love that they will always have that.
What makes you proudest of your family?
I am proud of our family because we all get along so well with each other. My older stepdaughter is very respectful of me and so helpful with her younger sisters. My younger stepdaughter has never known anything different and does so well transitioning between houses and families. All of the kids are loving and kind to each other (for the most part!) and really enjoy having each other around.
What's your best advice for other blended families struggling to keep the peace at home?
My husband and I refuse to treat any of the children any differently. We see them all as "ours," which I think is very important. We try to make sure all children feel equal and included in our family and our lives. It can be really hard at times to be civil with the other parents, but it is so important to never disrespect them or argue with them in front of the children. The kids should never feel like they are the cause of problems between their parents. If at all possible, try to be friendly with the other parents and interact with them as a group. This makes the kids feel like its more of an "extended" family situation, rather than two separate families that have nothing to do with each other.
Click through the slideshow below the see photos of Chelsea and Jeremy's family.
If you'd like your own family to be featured on a Blended Family Friday, please email us at divorce@huffingtonpost.com. We're looking forward to hearing your story!
PHOTO GALLERY
Meet Chelsea And Jeremy's Family
BEFORE YOU GO