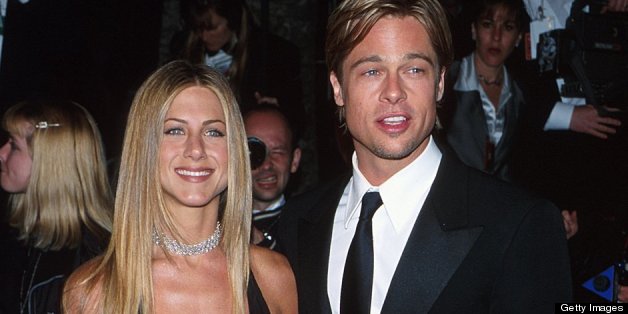 Tabloids might want you to believe they are the world's most contentious exes, but a friend of Brad Pitt says Pitt and ex-wife Jennifer Aniston are actually good friends.
Jean Black, a makeup artist and pal of Pitt's who has worked with the "World War Z" actor on most of his films since 1990, spoke with Us Weekly about the famous ex-couple and revealed there is no bad blood between them.
"I think Brad was ready to soar when he met Angie," Black said of his meeting Jolie on the set of "Mr. & Mrs. Smith" back in 2004. "This is not to say anything negative about Jennifer. I was part of that and I know that he and Jennifer are very good friends and he cared deeply for her."
"But in Angie," Black continued, "he saw a very adventurous person who was grabbing on to life and taking it to its nth degree. It was intriguing because I felt Brad had that in him and wanted to unleash it."
Aniston filed for divorce from Pitt in 2005 after seven years together and five years of marriage. Shortly thereafter, he began dating Jolie and she announced she was pregnant with their first biological child together, Shiloh, in 2006.
The 49-year-old actor has not been hush-hush when it comes to his years with Aniston or his love for Jolie. In the new issue of Esquire magazine, Pitt gushes about how he hasn't "known life to be any happier" while reflecting on the days he was married to the "Friends" star.
"For a long time I thought I did too much damage -– drug damage," he said. "I was a bit of a drifter. A guy who felt he grew up in something of a vacuum and wanted to see things, wanted to be inspired. I followed that other thing. I spent years f**king off. But then I got burnt out and felt that I was wasting my opportunity. It was a conscious change. This was about a decade ago. It was an epiphany -– a decision not to squander my opportunities. It was a feeling of get up. Because otherwise, what's the point?"
Some perceived this as Pitt indirectly slamming Aniston -- something he did more directly in a 2011 Parade interview when he said he got sick of his "pathetic" 90s self. Adding, "I think that my marriage [to actress Jennifer Aniston] had something to do with it. Trying to pretend the marriage was something that it wasn't."
For her part, the soon-to-be-married Aniston has stayed above the scrutiny surrounding her ex-husband and doesn't say much about the relationship. Last March, however, she did tell InStyle magazine that headlines about a feud between her, Pitt and Angelina is "a story that has nothing to do with reality."
BEFORE YOU GO
PHOTO GALLERY
Jennifer Aniston