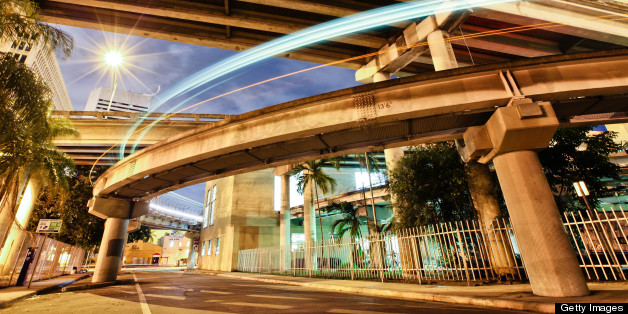 Wondering what shape Miami's bridges are in after last night's scary collapse in Washington State?
Fourteen spans in Miami-Dade County are rated structurally deficient, according to the American Society of Civil Engineers' 2013 Report Card for America's Infrastructure. While not necessarily unsafe, these are bridges whose critical load-carrying elements have been found to be deteriorated or damaged and demand significant monitoring, maintenance, fixes, or replacement.
Another 233 are rated functionally obsolete, a label shared with the span of Interstate 5 that collapsed into the Skagit River Thursday night. The scary-sounding designation means those bridges no longer meet the standards of today, whether they have low load-carrying capacity or lanes are insufficiently wide.
Dade's structurally deficient bridges include the Rickenbacker Causeway's Bear Cut Bridge to Key Biscayne, which has been partially shut down since January thanks to rapid deterioration of its steel girders, and the West 23rd Street Bridge in Miami Beach, the Miami Avenue bridge into Brickell, I-95 Northbound over Southwest 8th Street, and I-395 Eastbound over NW 3rd Avenue, and Alhambra Circle. (Check out bridges near you at t4america.org.)
One in nine of the nation's bridges has been rated as structurally deficient, the ASCE has found, and many of those are of significant size. The nation's 66,749 structurally deficient bridges make up one-third of the total bridge decking area in the country.
Florida is actually doing better than most -- it ranks 50th among states and Washington, D.C., with just 2.4 percent of its bridges rated structurally deficient.
But Miami-Dade faces two particular challenges to its infrastructure, especially bridges. Expected climate change side effects including rising sea levels, strong storm surges and flooding will wreak havoc on local roadways, prompting new design and construction concerns for replacement spans.
And, as always, funding is of critical concern. The 1,684 bridges in Miami-Dade are variously owned by the Florida Department of Transportation, the county, and municipalities, virtually all of which are critically cash-strapped. The Miami Herald reported in February that Miami-Dade County alone projects a rough estimate of needed rehab and replacements at over $450 million for the next 10 to 20 years.
Replacing the 12 bridges of the 1920s Venetian Causeway alone, according to the Herald, will cost some $110 million -- in addition to $9 million the county spent reinforcing pilings in 2011. Local officials, naturally, are hoping federal funding will help cover the project.
There's a catch there, too, however. The Federal Highway Administration estimates that the U.S. needs to invest $20.5 billion annually just to eliminate deficiency backlog by 2028. Currently, the federal government is spending only $12.8 billion.
And according to the American Society of Civil Engineers, Florida needs $1.35 trillion in repairs and replacements for highway bridges alone.
BEFORE YOU GO