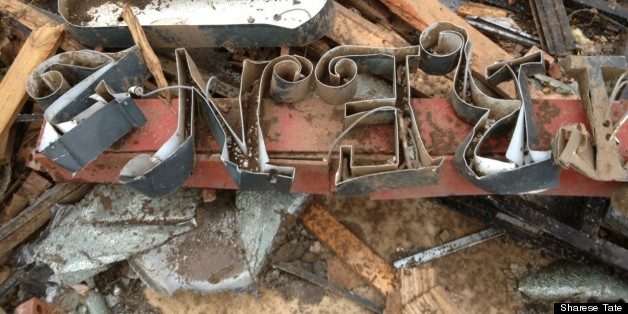 MOORE, Okla. -- A few years after Kristi Lewis started her barbershop in this suburb of Oklahoma City, she went to a used-equipment store outside of town and bought a 1963 Belmont Electric barber chair in the crimson-and-cream color scheme of the Oklahoma Sooners.
It was the pride of her shop and a symbol of her success as an independent business owner. Now, the chair is broken, her shop is in ruins, and Kristi Lewis is contemplating an unappealing future as a renter in someone else's store.
"I have a 16-year-old daughter and it's just me and her," Lewis said. "I just need to work."
In the immediate aftermath of the deadly storm that killed 24 and injured hundreds more, residents say they thought only of family and neighbors, and survival. But as the days pass, and the shock wears off, many of those who owned a business damaged by the storm, or who worked in one, are confronting a new reality of uncertain job prospects and diminished income.
Dozens of businesses were damaged or destroyed by the massive Moore twister. Of these, some were big-box stores and chain restaurants, which in some instances shifted employees to other locations. Others, though, were local operations, the kinds of places that become fixtures in a community and are difficult, if not impossible, to replace.
Hair salons are just such a business. The customer base is typically drawn from the immediate community. Move too far away, and risk losing business to other shops. There is also a competition factor: some shopping centers will reject a prospective salon if one is already based there.
Lewis's shop was one of two Moore salons destroyed by the storm. A half-dozen or so others sustained damaged or were close enough to the destruction that they lost services, like power and phones.
Most hair salons, including those that were destroyed, are essentially collectives of independent contractors. Typically, one of the stylists leases the space and collects rent from the others. Everyone is responsible for his or her own gear, which can run thousands of dollars. Each is responsible for the equivalent of renters insurance.
Sharese Tate is the owner of Trenz Salon & Spa, leveled by the tornado. Some of the stylists in her shop did not have insurance, Tate said, and two also lost their homes. Those without insurance must shoulder the full replacement cost of equipment. A good pair of scissors alone costs $300.
With each day that passes, these workers are also missing out on pay. On a good day, an experienced stylist with a strong customer base can earn $300 to $400, Tate said. Out of that, they must pay rent for their chair, plus carry the full weight of health insurance, unless covered by a spouse's policy.
On Thursday, Tate learned it may be two years before the structure that housed her salon is rebuilt. This means that she is effectively out of business for at least that long.
She also received some bittersweet news. Several other local salons said they could accommodate some of the 17 displaced workers from Trendz. It will be the first time the core of the group is separated since Tate opened 20 years ago.
"They are more like family than coworkers," Tate said. "It is really hard and hurtful to decide who is going to go where."
While some businesses in town were leveled, others were mostly undamaged. Tangles, a hair salon less than a quarter-mile from splintered homes, didn't even lose any windows.
Power had been restored, and inside, chairs appeared ready to welcome customers. Yet owner Alicia Escobar said she didn't know when she could reopen. Her phone line was still out, and a police roadblock outside prevented most from entering.
Escobar estimated that her shop was losing from $1,000 to $1,500 a day. Making matters worse, the coming Memorial Day weekend is traditionally one of the busiest days of the year. Graduation for the three Moore high schools is Saturday, and Escobar had expected to stay frantically busy.
Jeff Brown, a sales rep at State Beauty Supply, which supplies local salons, said his business is donating small equipment to stylists, and will sell expensive items at cost. A charity fund connected to the National Beauty Association is also raising money, and will provide quick cash to needy salon workers, according to Steve Sleeper, the organization's executive director.
Elsewhere in the damaged neighborhoods, local businesses were making tentative plans to reopen. The storefront of A New Beginning Florist, near the badly wrecked Moore Medical Center, was damaged, and the store is closed for now. But the family that runs it will continue to fulfill orders on a limited basis, according to a voice recording.
A few blocks away, near the entrance to the neighborhood where nine children died in the demolished Plaza Towers Elementary, a dance studio is also making plans to reopen on Tuesday.
"I thank all of you who have been texting to keep me updated," wrote the owner, Deborah Shephard, on the business's website. "Seeing these stories on here is gut wrenching. I know many of our families have lost their homes and I am beyond sadness to learn of the passing of an alumni."
The woman died with her infant baby, she wrote.
"More than heartbreaking," Shephard continued. "May God bless the families who have lost loved ones."
BEFORE YOU GO
PHOTO GALLERY
May Tornadoes 2013