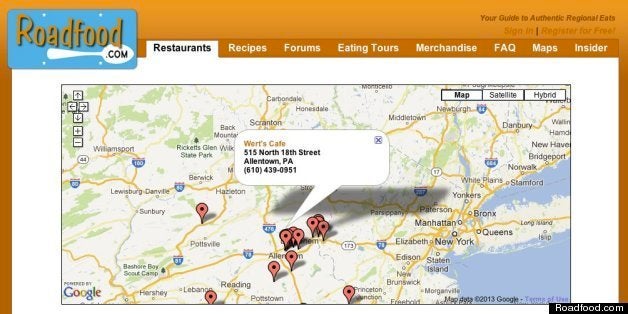 One of the greatest things about driving across America is the food you will get to eat along the way. You've heard us rattle on and on about our love affair with American regional foods, and that love affair wouldn't be nearly as intense, well-informed and well-fed without one website: Roadfood.com.
Roadfood was started by Jane and Michael Stern, two food-loving travelers with a love for the kinds of small, often family-run diners, restaurants and stands that line America's vast and winding roads. One of our commenters recently suggested (probably correctly) that Guy Fieri probably owes his career to these two insisting that we all pay attention to regional foods. The site, run by the formerly married Sterns (yes, even thought they are divorced they still travel and write about food together, so just let that warm your heart for a hot second), and a dedicated team of volunteer curators, who both contribute content and help to weed through the submissions of everyday travelers.
The site itself is functional, offering zero pretense that anyone is there for any other reason than this: they are on the road, they are hungry and they want to know what's good. In addition to a standard city and state search (which has given your hungry HuffPost Taste editors a great chili dog/lobster roll/milkshake or two while on the road), they've also started to compile recommended eating tours, so you can plan your eating route in advance. We turn to Roadfood any time we plan a road trip to help us mark the local specialty along the way to wherever we are going, and we want you to do the same.
Because the site relies so heavily on user submissions for photos, reviews and new listing ideas, the more people participate in the Roadfood community, the better all of our road eating gets. What constitutes Roadfood exactly? We'll let the experts explain that:
Roadfood means great regional meals along highways, in small towns and in city neighborhoods. It is non-franchised, sleeves-up food made by cooks, bakers, pitmasters, and sandwich-makers who are America's culinary folk artists. Roadfood is almost always informal and inexpensive; and the best Roadfood restaurants are colorful places enjoyed by locals (and savvy travelers) for their character as well as their menu.
We're betting you guys have a few of just those kinds of places up your sleeve, so head over to Roadfood and share your gems with the rest of us. Also for those of you who are already as obsessed as we are, we want to know: what's the best meal Roadfood has ever led you to? Let us know in the comments!
BEFORE YOU GO
PHOTO GALLERY
American Regional Foods