We don't care how famous his father is, it's a little odd for a 20-year-old woman to be hanging out with a 14-year-old boy.
And still, Selena Gomez (who turns 21 in July) and Jaden Smith were photographed after they dined together at Hakkasan in London on Thursday night.
But the strange pair weren't the only celebrities who had a hankering for the Chinese restaurant it turned out. Bradley Cooper and his "Hangover 3" co-stars Justin Bartha, Ed Helms, and Ken Jeong were also spotted grabbing dinner, in addition to Will Smith, who was there with his "Fresh Prince of Bel-Air" co-star Jeffrey A. Townes aka DJ Jazzy Jeff.
We're not quite sure why Gomez was hanging out with her ex-boyfriend Justin Bieber's best friend, but she defintely didn't seem happy to have her photo taken and shielded her face from the cameras as the two exited the restaurant.
After dinner, Selena, Jaden, and his father all headed to Boujis nightclub to watch Will's son Trey DJ, but the 14-year-old actor was refused entry because he's underage, which only serves to emphasize how odd it is that Selena and Jaden were hanging out in the first place.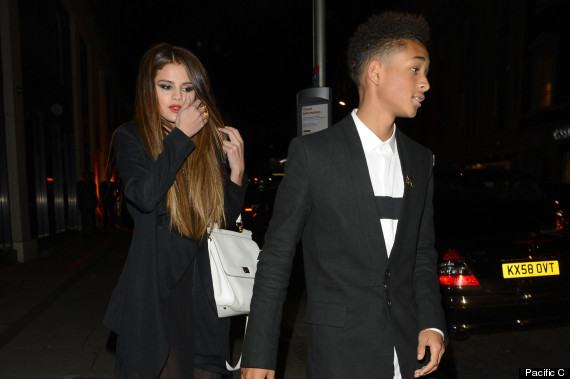 BEFORE YOU GO
PHOTO GALLERY
Selena Gomez Photos