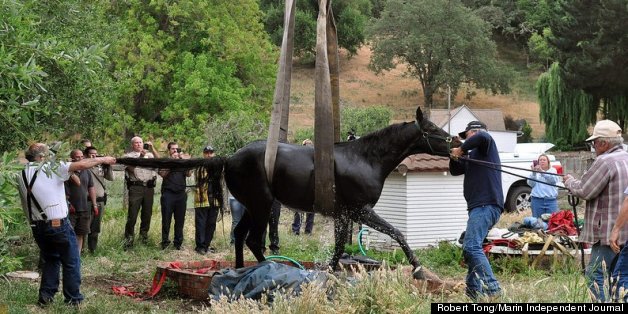 A horse that fell into a well filled with 20 feet of water near China Camp State Park was rescued in dramatic fashion early Monday evening.
The drama unfolded when the occupants of a small ranch in the 600 block of North San Pedro Road in San Rafael got home just after 4 p.m. and discovered their horse, Buddy, had fallen into the brick-lined well, which was about 8 feet in diameter. It appeared that a well cover had given way, allowing the horse to fall in. The horse was at least 5 feet below ground level.
The San Rafael Fire Department was called at about 4:30 p.m. to assist with the rescue.
Realizing it would take more than human hands to free the 1,000-pound-plus animal, Ad-Lite Crane Services of Novato was also called for help. The Marin County sheriff's horse posse rescue unit also came to assist, along with veterinarians.
About two dozen people eventually ended up at the scene and were able to work harnesses around the horse. San Rafael firefighters pumped water into the well to get the horse closer to the top of the structure.
Finally at 6:30 p.m. the crane lifted the horse up and then out of the well to the cheers of onlookers.
"It was unclear how long the horse had been in the well," said San Rafael fire Battalion Chief Jeff Rowan. "Someone came home and found it. It was floating but getting tired and frustrated."
Contact Mark Prado via email at mprado@marinij.com ___
BEFORE YOU GO
PHOTO GALLERY
Horse Saved From Well