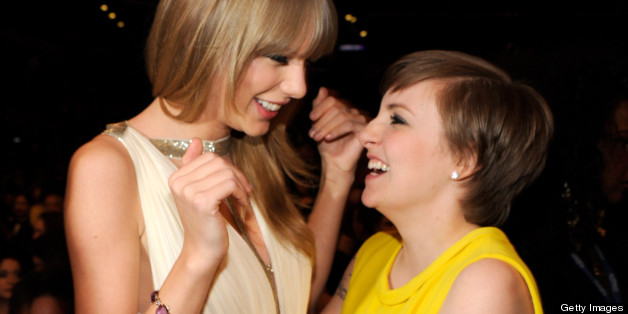 Lena Dunham and Taylor Swift are pretty much best friends.
According to Life & Style, the 27-year-old "Girls" star and the 23-year-old country singer met up for lunch in Rhode Island over Memorial Day weekend. Their outing included some of their famous friends: musicians Ed Sheeran and Jack Antonoff (Dunham's boyfriend), actress Hailee Steinfeld and former "Gossip Girl" star Jessica Szohr.
This isn't the first time that Dunham and Swift have been spotted hanging out. After the Met Gala on May 6th, the pair grabbed a late dinner together at a New York City diner.
In January, Dunham admitted that she loved Swift's new album and had messaged her on Twitter. "I sent her a message. I was like, 'I just want to let you know that your albums have gotten me through a lot of very hard times,'" she said.
And in May, T-Swift gushed about Dunham. She said:
Lena Dunham is this girl who is so incredibly talented. She's a writer, director and actress who stars in this show called Girls on HBO. It's my friends and I's favorite show. I've always been really blown away by how she's so young -- she's in her mid-20s -- and she does all these things ... For someone like that to listen to my music -- it was a really good day for me.
Yup, Lena Dunham and Taylor Swift are totally best friends. We approve.
[H/T Jezebel]
BEFORE YOU GO
PHOTO GALLERY
Lena Dunham And Taylor Swift Are BFFs At The Grammys