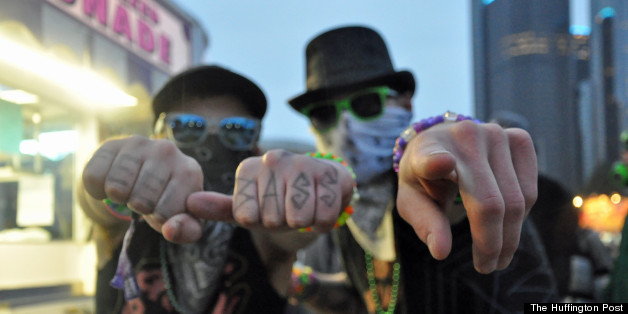 Cold weather and pouring rain weren't enough to stop techno fans from coming out in droves for Movement, Detroit's electronic music festival. And while some traded of neon fishnets shirts for sweaters and umbrellas, we captured photos of plenty of stylish fans and eye-raising outfits at downtown's Hart Plaza over the weekend.
The three-day fest draws a wide range of listeners, including a younger set of electronic dance music fans, old-timer partiers, the techno heads just there for the music and droves of Europeans who appreciate the Detroit sound. And, fittingly, there was a wide variety of styles, beyond classic rave gear and outdoor casual wear.
Festival-goers, many who came into town without full wardrobes, had the added challenge of making warm weather looks suitable for the lower temperatures. That meant more layers than usual, but there was still an admirable number of revelers wearing bikinis or less in Hart Plaza.
Below, we compiled some of the standout styles from Movement, including those aforementioned pants-less looks, matching velvet coats, a grown-up version of the romper, dressed-down leather, perfectly coifed hair, and, naturally, Ninja Turtle costumes.
Movement is over, but the memories live on!
PHOTO GALLERY
Movement Style: Photos Of Fashion's From Detroit's Electronic Music Festival
BEFORE YOU GO