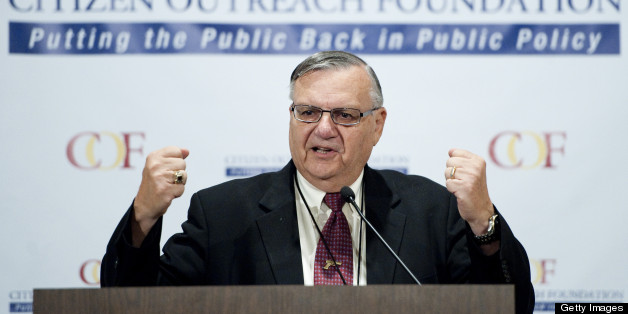 Organizers of a campaign in Arizona to recall Maricopa County Sheriff Joe Arpaio say a recent federal court ruling that found Arpaio and his office engaged in racial profiling reignited their campaign's efforts.
"It really reenergized the campaign," Beto Soto, an organizer with Respect Arizona, told VOXXI on Tuesday. "People are excited about the campaign and they're excited about recalling Arpaio."
Respect Arizona is the grassroots organization leading the charge to collect the 335,000 signatures needed to recall the self-proclaimed "America's toughest sheriff." The group's organizers have until Thursday evening to collect the signatures.They say they're optimistic about reaching that goal following a federal judge's ruling on the racial profiling case involving Arpaio and his office.
They also say the ruling has encouraged more people to sign the petition to recall Arpaio. It has also motivated more people to volunteer with the campaign, which launched in January.
Court rules Joe Arpaio and his office engaged in racial profiling
More than eight months after a seven-day trial, U.S. District Court Judge G. Murray Snow ruled Friday that Arpaio and the Maricopa County Sheriff's Office (MCSO) racially profiled Latinos during crime sweeps and immigration patrols.
"The evidence introduced at trial establishes that, in the past, the MCSO has aggressively protected its right to engage in immigration and immigration–related enforcement operations even when it had no accurate legal basis for doing so," Snow stated in his 142-page ruling issued Friday.
Tim Casey, an attorney representing Arpaio and the MCSO, responded to Snow's ruling on Friday, saying his clients had not engaged in racial profiling. Casey also said MCSO deputies were only acting based on the training they received by Immigration and Customs Enforcement (ICE) agents.
"We're deeply disappointed with the outcome of the decision," he told VOXXI. "The MCSO's position is that it has never used race and will never use race to make a law enforcement decisions."
Casey added that Arpaio and his office plan to appeal the judge's ruling in the next 30 days.
"We will be appealing, but in the meantime, we will be working with the court and with the counsel to make sure that we implement the court's order by its terms and its intent," he said.
Judge's ruling helps ramp up efforts to recall Joe Arpaio
Meanwhile, Soto of Respect Arizona said Snow's ruling on the racial profiling case has gotten more people excited about efforts to recall Arpaio.
His group set up a camp Sunday evening outside the Maricopa County Board of Supervisors Auditorium in downtown Phoenix where people can come sign up to volunteer and sign the petition to recall Arpaio. As of Monday afternoon, more than 100 volunteers had come by to help collect signatures. Organizers expect that number to increase in the next few days.
Supporters of the recall campaign plan to camp out until Thursday at 5 p.m., the deadline to summit the recall petition signatures. When asked how many signatures they still need, Soto told VOXXI, "At this point we are saying a lot. I know it sounds ambiguous … but at this point we are counting the numbers and verifying the signatures."
Soto has spent the last two months and a half recruiting high school and college students to volunteer with the recall campaign. He has also been helping collect signatures and raise awareness of the campaign.
The 33-year-old was born along the United States-Mexico border and was raised in Arizona. He moved to Florida five years ago to pursue a Ph.D. in applied economics at the University of Florida. After completing his dissertation three months early, he moved back to Phoenix to join the recall campaign.
"My promise to myself was that if I finished early, I would head over to Arizona and join this recall campaign, and I did that," Soto told VOXXI. "I drove 2,000 miles and landed in Respect Arizona's office, and basically I've been volunteering full time."
Originally published on VOXXI as Judge's ruling reenergizes efforts to recall Sheriff Joe Arpaio

BEFORE YOU GO
PHOTO GALLERY
Latino Intellectuals Who Terrify Arizona Conservatives