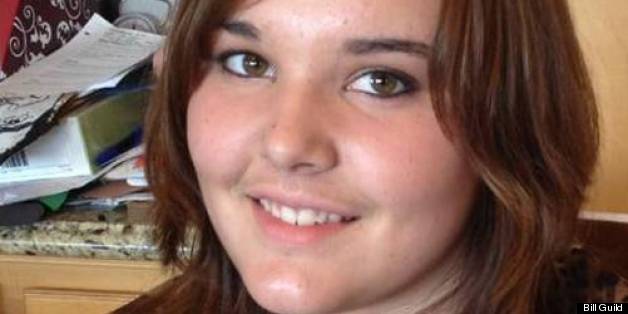 Police in California are asking for help locating a 15-year-old Antelope Valley girl who has been missing since Sunday night. Her family fears she may have run off with a man she met online.
Distraught grandfather Bill Guild told The Huffington Post that his granddaughter, Ashley Marie Lewin, was last seen over Memorial Day weekend.
"We had a great weekend, and she came in to say goodnight to us about 10 p.m. Sunday. She said, 'Goodnight grandpa and grandma I love you.' We got up the next morning and she wasn't here," Guild said.
According to Guild, his granddaughter lives in his Littlerock residence. Lewin's mother, and her mother's boyfriend, live in a guesthouse on the property.
Guild said it's possible that Lewin met an unknown male on the Internet and left to meet up with him.
"She had been emailing and texting older people, and had been getting inappropriate messages from older guys," he said. "Because of that, her mom took away her cell phone and her kindle, but we've since discovered that she was making calls on our home phone to people in several other states.
Lewin's grandparents reported her missing to the Los Angeles County Sheriff's Department's Palmdale station. They also posted flyers, spoke with the teen's friends and called some of the numbers they found on their phone bill. While most of the people they have spoken with have been cooperative, there was a gentleman in northern California who denied any knowledge of Lewin.
"I called him yesterday and he said he had never heard of Ashley. I said, 'That's interesting, because you talked to her for 2 hours and 40 minutes on one particular occasion.' He hung up on me, so we're making sure the police are looking into that one," Guild said.
The worried grandfather added, "One of the big things we have warned Ashley about is predators. The kids don't know who they're talking to [online] but they think they know everything."
Lewin's family is also concerned that she might be headed for Las Vegas, Nev., where her biological father resides. She has never met him before and has previously expressed a desire to find him, Guild said.
Authorities are aware of both possibilities in the teen's disappearance and have yet to rule anything out.
According to Guild, it is out of character for his granddaughter to run away. She just finished up her freshman year at Littlerock High School, and is "very smart," he said.
PHOTOS OF ASHELY MARIE LEWIN (Story Continues Below)
PHOTO GALLERY
Ashley Marie Lewin Missing
Ashley Marie Lewin is described as white, 5-feet-6-inches tall and 180 pounds, with light brown hair and brown eyes.
Anyone with information is asked to call the Palmdale sheriff's station at 661-272-2400.
As they wait for good news, Lewin's family said they love her and just want her back safe.
"It's very sad. The longer the wait, the harder it is. We hope and pray that, wherever she is, she is safe, unharmed," Guild said.
BEFORE YOU GO
PHOTO GALLERY
Missing Children