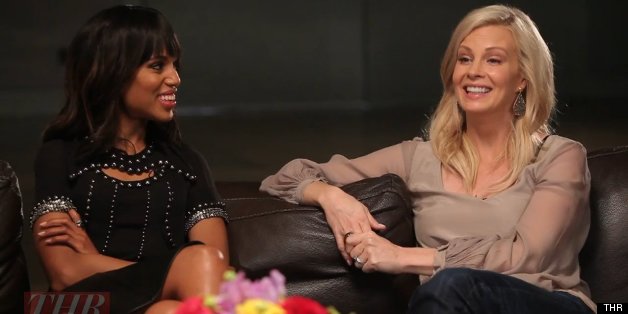 On Season 4 of "Parenthood," Monica Potter was given the challenge of portraying the emotional journey of a woman diagnosed with breast cancer and navigating her life with an unexpected baby, a daughter just starting college on the other side of the country and a pre-teen son with Asperger's.
Potter's performance on "Parenthood's" most recent season earned high praise and Emmy buzz, which led The Hollywood Reporter to ask the actress to join their annual Emmy roundtable of drama actresses along with Connie Britton ("Nashville"), Anna Gunn ("Breaking Bad"), Kate Mara ("House of Cards"), Elisabeth Moss ("Mad Men") and Kerry Washington ("Scandal").
During the hour-long discussion (which you can watch in full at THR), Moss asked Potter if she knew Kristina was "going to make it through" Season 4 of "Parenthood."
"I did. I kind of knew because Kathy, ["Parenthood" creator Jason Katims'] wife, did ... So a lot of the stuff that's written mirrors what's going on in Jason's life, like his child being on the autism spectrum," Potter explained. "So I was like, 'OK. I think I'll be OK by the end of the year.'"
Moss and Washington, both clearly fans of "Parenthood," pointed out how much they loved the lighter moments, including Kristina finding a wig she liked and going out for a romantic evening at a hotel with her husband Adam (Peter Krause).
"I love the whole wig thing," Moss said. "She was so broken hearted when she got the bad wig!" Washington agreed, noting she "especially [loved] the fabulous date night wig."
"That wig was called Monique," Potter explained, causing the other women to erupt in laughter. "I got to pick that wig out at Wilshire Wigs. I went by myself and I put it on. I'm like, 'I'm going to wear a red wig named Monique.'"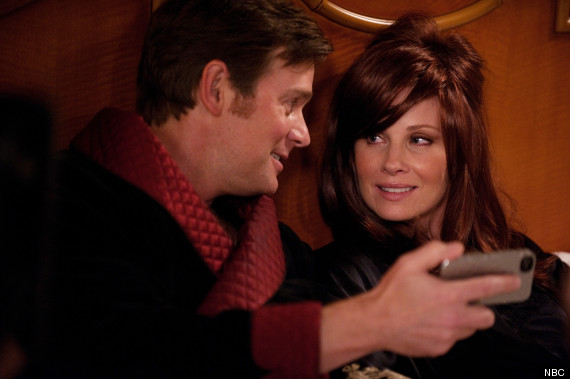 "[She was] so sweetly proud of it," Moss added.
"I have it at home," Potter confessed of "Monique."
As for Season 5 of "Parenthood," Potter recently told The Wall Street Journal blog Speakeasy that she "can't imagine [Kristina relapsing], but you never know with the way that they write." Earlier in the year, the actress told The Huffington Post that she "would hope that for poor Kristina, we'd see a lot of funnier moments next season." Potter added, "I like to do comedy and I think that'd be a lot of fun to show another side of her and just show her celebrating life ... I also feel like going through this she's going to become a lot looser next year and, like Jason said, she won't sweat the small things as much. I think for me as a person I'll be able to relate to that a lot too."
For more on Potter, Moss, Washington and more from THR's Emmy roundtable, click here.
Catch Potter when "Parenthood" returns in the fall in its new timeslot -- Thursdays at 10 p.m. ET on NBC; watch Washington on "Scandal" when it returns to ABC this fall on Thursdays at 10 p.m. ET; and tune in to see Moss on the current sixth season of "Mad Men," Sundays at 10 p.m. ET on AMC.
BEFORE YOU GO