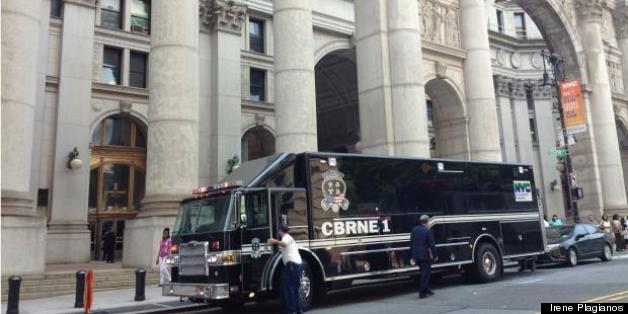 By Murray Weiss, Irene Plagianos and Aidan Gardiner
MANHATTAN -- Two letters, each smeared with blood, were sent to the city's Municipal Building at 1 Centre Street, according to the New York Post.
The rambling letters, which were reportedly addressed to a mayoral candidate, were written in both English and Spanish were delivered on Friday, the Post reported.
Public Advocate Bill de Blasio has an office at the Municipal Building, as does Comptroller John Liu, according to their websites. A spokesman for the Public Advocate and the Comptroller's office did not immediately have a comment.
Hazardous materials crews and NYPD's emergency services units gathered at the Municipal Building's north entrance Thursday afternoon.
News about the letters comes a day after police revealed that two ESU workers suffered symptoms consistent with Ricin poisoning after opening letters containing the toxic substance addressed to Mayor Michael Bloomberg.
It is unclear if the two incidents are related. The Post reported that the bloody letters did not contain any chemicals.
BEFORE YOU GO
PHOTO GALLERY
2013 NYC Mayoral Candidates