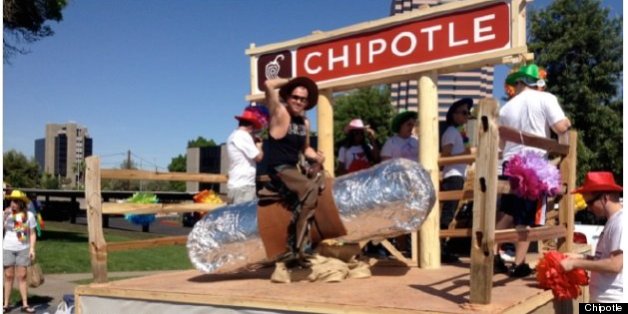 WASHINGTON -- Chipotle is known for selling "Food With Integrity" -- but it turns out that beans and burritos aren't the only Chipotle products served with a side of sincerity.
This year, Chipotle is showing off its gay pride -- and one massive burrito -- with a float in the 38th annual Capital Pride Parade.
The burrito chain's 2013 float features a giant, tinfoil-wrapped burrito -- "So big you can ride on it!" -- the company's largest burrito to date. It will make the round of Pride parades around the country, hitting Washington, D.C. on June 8.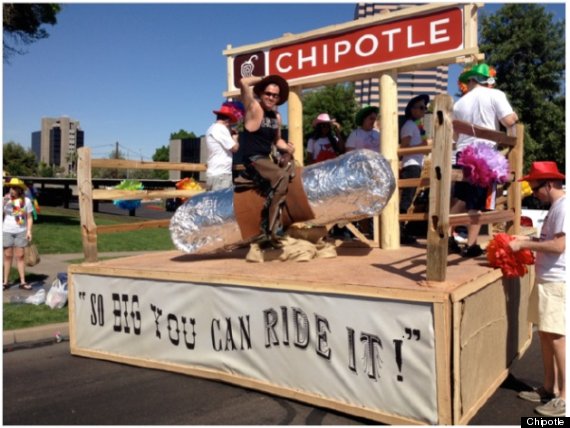 The parade kicks off at 4:30 p.m. from 22nd and P Streets, NW, winding its way to its final destination at 14th and R Streets, NW. (See the full Capital Pride Parade route map here.)
Awards doled out after the parade include Best Decorated Float, Best Marching Contingent and Most Outrageous.
In the lead up to Pride season nationwide, Chipotle employees will also wear t-shirts emblazoned with "¿Homo Estas?" as a sign of LGBT unity.
Other events to look out for during Capital Pride 2013: the D.C. Queer Theatre Festival, a drag kickball tournament and Jell-O wrestling.
In March, Chipotle made news for pulling sponsorship of a Boy Scouts of America event because of the organization's long-standing (now overturned) ban on gay members.
BEFORE YOU GO
PHOTO GALLERY
Gay Pride Around The World