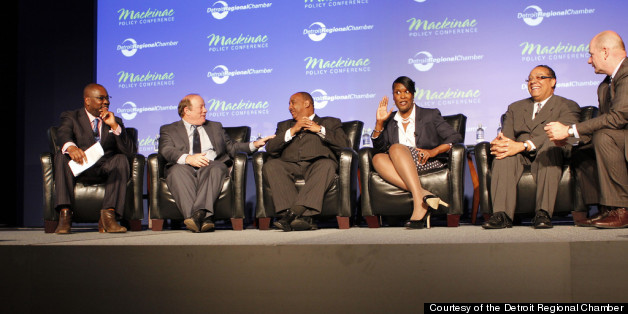 Mackinac Island is 300 miles away from the city of Detroit, but that didn't stop four of the city's candidates for mayor from engaging in the 2013 campaign's first forum at the Mackinac Policy Conference.
It was moderated by Detroit Free Press Editorial Page Editor Stephen Henderson and Nolan Finley, his counterpart at the Detroit News, who promised a war of words to the crowd: "These folks paid for a good scrap. No rules!" The $200-a-head forum held on Thursday evening benefited the Detroit Regional Chamber's PAC. HuffPost Detroit was there, live-tweeting all the action from the Grand Hotel.
In addition to the campaign's frontrunners, former Detroit Medical Center CEO Mike Duggan and Wayne County Sheriff Benny Napoleon, state Rep. Fred Durhal Jr. (D-Detroit) and Lisa Howze, a former state Rep. from the city, took the stage for an hour of questioning.
The four candidates all touted their fiscal abilities in the face of Detroit's $15 billion budget crisis, but the real energy came when the candidates were allowed to interview their competitors. Howze's tough questioning of anti-kickback fees paid during the sale of the DMC to Vanguard and Duggan's connections to former Wayne County executive Ed McNamara produced some of the night's most dynamic moments.
But there was one question that wasn't addressed: How many of these mayoral ambitions could actually become reality when the city's chief decision-maker isn't an elected official? Perhaps, we tweeted, Detroit's state-appointed Emergency Manager Kevyn Orr should be asking the questions next time around.
We collected the best of the brouhaha, from ideas and insight to flat-out insults, in the slideshow below. Check out the highlights, and circle back to take our poll -- which candidate has your vote right now?
PHOTO GALLERY
Detroit Mayoral Candidates Spar At Mackinac Conference
BEFORE YOU GO