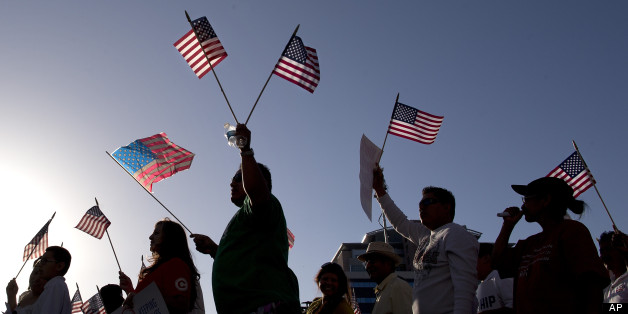 WASHINGTON -- Evangelical groups launched another ad blitz on Thursday in support of immigration reform. A $250,000 buy will show ads in 13 states through next week, broadening the groups' effort after $100,000 in ad spending in four states last month.
The ads from the Evangelical Immigration Table -- which includes conservative groups and more progressive ones -- will feature coalition leaders and local pastors.
"The lives of 11 million of our neighbors hang in the balance as Congress seeks to reform our immigration system," Lynne Hybels, co-founder of the Willow Creek Community Church, says in the national ad.
"The Gospel calls all of us as Christians to compassion and justice, so I'm asking you to join a growing movement of Christians who are appealing to our political leaders for immigration solutions that respect each person's God-given dignity," Russell Moore, president-elect of the Ethics and Religious Liberty Commission of the Southern Baptist Convention, continues.
Ads will run nationally on the Salem Communications Network and locally in Alaska, Arizona, Florida, Georgia, Idaho, Kansas, Kentucky, Montana, North Carolina, Ohio, South Carolina, Tennessee and Texas. There will be ads on Christian and local radio, plus billboards near the offices of members of Congress and senators in Florida, North Carolina, South Carolina and Texas. One billboard will be near a Florida office of Sen. Marco Rubio (R-Fla.), a member of the bipartisan "gang of eight" that drafted the immigration reform bill that will soon go to the Senate floor.
The bill passed the Senate Judiciary Committee last week and will be taken up by the full body in early June. Senate Majority Leader Harry Reid (D-Nev.) hopes to pass the gang of eight legislation by July 4, his spokesman told Bloomberg News Tuesday.
Only four Republicans -- Rubio and fellow gang of eight Sens. John McCain (R-Ariz.), Lindsey Graham (R-S.C.) and Jeff Flake (R-Ariz.) -- have committed to support the bill. Sen. Orrin Hatch (R-Utah) joined the group in voting the bill out of committee, but did not say that he will vote for it on the floor.
Evangelical leaders are hoping that they, along with business leaders, can give Republicans more space to support immigration reform.
A poll released in March by the Public Religion Research Institute found that 56 percent of white evangelical Protestants think there should be a path to citizenship, along with 63 percent of Mormons and 62 percent of white Catholics. Among Latinos, support is even higher, with 74 percent of Hispanic Catholics and 71 percent of Hispanic Protestants supporting a pathway.
"What we've seen across the country is really a sea change among Christians and evangelicals," Stephan Bauman, president and CEO of World Relief, told reporters on a conference call. "As I've been traveling across the country, people will come and ask about immigration and immigration reform. ... People are wanting to know about the issue. They want to know what the Bible says about it."
Bauman said that the coalition wants the bill to have a fair pathway to citizenship, and wouldn't want to see additional hurdles added to make it more difficult.
The Evangelical Immigration Table is currently holding a 92-day push for Christians to pray for reform. The group previously advocated using a day of prayer in April and the "I Was A Stranger" campaign to argue that Christian values align with the need for immigration reform. Evangelicals ran ads as early as last July in support of immigration reform.
Listen to all of the new ads here.
BEFORE YOU GO
PHOTO GALLERY
11 Ways Immigration Reform Helps The Economy