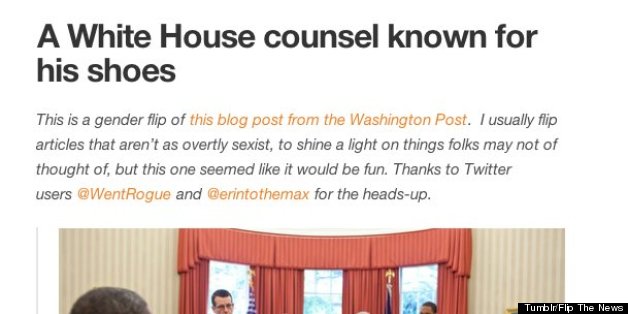 What would articles about women look like if they were rewritten to be about men?
Absurd.
That's the premise behind the Flip The News Tumblr, which "flips" the gender and race of subjects in mainstream news articles.
"The point here is to shine some light on the way news organizations write about people and strive for more balanced, respectful narratives," the Tumblr's profile states.
Examples of flipped articles range from seemingly mundane pieces to overtly sexist ones, such as this week's Washington Post blog post on White House Council Kathryn Ruemmler's shoes. Flip The News changed the name in the article to Peter Ruemmler, which cast in stark relief how a sentence like this would never be written about a man:
"We tried to get a photo from the White House showing one of these exceptional pairs; instead we got this shot of him in a senior staff meeting with the president, where unfortunately his incredible shoes are covered by a big fruit bowl."
A number of flips focus on how "parenting" is often synonymous with "motherhood" in the mainstream media: "Childless men have found other ways to nurture -- including adopting pets and providing guidance to young relatives and school-age boys."
The project made us think about how we write about gender, sex and race, and we hope it has the same effect on other media organizations -- especially those who cover powerful women's shoes.
BEFORE YOU GO
PHOTO GALLERY
Sexist Vintage Ads