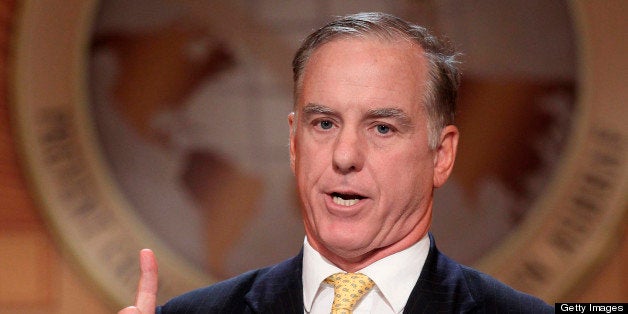 WASHINGTON -- The political action committee founded by former Vermont Gov. Howard Dean (D) is increasing its efforts to elect Democrats to the Virginia state legislature this year.
Dean announced on a conference call Thursday that Democracy for America is expanding its "Purple to Blue Project" to endorse four Democratic candidates for the state House of Delegates in Virginia's Republican-leaning districts. The move comes two months after Dean launched the program as a way to help flip state legislatures from Republican to Democrat across the country.
"We would like to help the people of Virginia bring this state back to the center where it belongs," Dean said on the call. "We don't want extremists running the state."
Thursday's endorsement focused on Democratic state House candidates Jeremy McPike, James Harder, Jasper Hendricks and Monty Mason. DFA formally endorsed Democratic candidates Jennifer Boysko and John Bell for state House seats in March. At the time, it said that it will support the candidates through grassroots activists, donations and direct mail campaigns. DFA staffer Kaili Lambe noted on Thursday's call that the group's goal is to build permanent Democratic political infrastructures in these districts.
DFA plans to focus on Virginia this year and will likely expand into Michigan and Pennsylvania in 2014, Lambe said. Last week, the group ventured into New Jersey politics with an endorsement for state Sen. Barbara Buono (D-Metuchen) in her uphill gubernatorial campaign against Gov. Chris Christie (R). It also endorsed two Democratic candidates for the New Jersey Assembly, though the state is not currently part of the "Purple to Blue Project."
Virginia Republican Party chairman Pat Mullins released a statement Thursday, saying that Dean is out of touch with "mainstream" Virginia and that DFA's endorsements are a way of identifying "far left" state legislative candidates.
"A vote for a Dean-endorsed candidate is a vote for higher taxes and more regulation," Mullins said. "A vote for a Dean-endorsed candidate is a vote for someone who thinks that government is the solution to every problem we face. Thanks again, Governor Dean, for helping us identify these left-wing candidates! You've saved us a lot of money and a lot of effort!"
BEFORE YOU GO
PHOTO GALLERY
United States Governors