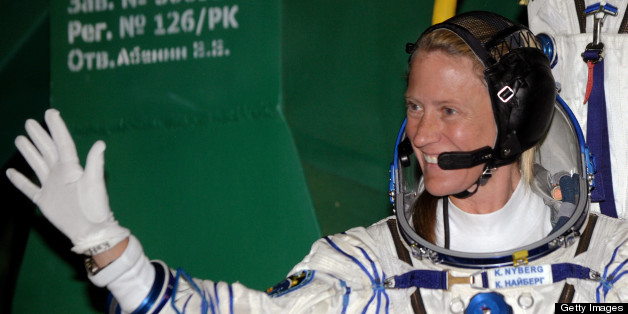 What's the best way to write about a female astronaut?
Focus less on her gender and more on her incredible accomplishments.
American astronaut Karen Nyberg took part in the second-ever express trip to the International Space Station (ISS) this week, accompanied by Italian astronaut Luca Parmitano and Russian cosmonaut Fyodor Yurchikhin. The trio traveled in a Russian Soyuz spacecraft to the ISS, where they will spend the next six months.
When journalist and blogger Jessica W. Luther searched for more information about Nyberg, she was shocked by the opening line of a Reuters/Yahoo article she encountered:
"A veteran Russian cosmonaut, a rookie Italian astronaut and an American mother on her second flight blasted off from the Baikonur Cosmodrome in Kazakhstan on Tuesday for a six-hour ride to the International Space Station."
"Here are the two things I can assume based on these descriptions," Luther wrote in a blog post. "1. She's not an astronaut. 2. And the Russian and Italian space explorers are not fathers."
Luther went on to list some facts about Nyberg's accomplishments, from her Ph.D. in mechanical engineering to the fact that she once lived and worked under water for seven days.
A quick Google search for Nyberg yields articles about her savoring her last Mother's Day before her six-month visit to the International Space Station, and how she'll be bringing craft supplies on the mission.
As Luther points out, Nyberg is not the only astronaut on the mission with children -- she is simply the only woman. According to the European Space Agency website, Parmitano has two daughters, and NASA's website notes that Yurchikhin has two children. Guess how many articles have been written about how much they will miss their kids, or what domestic arts they plan to practice in space?
We're not saying that a professional's family commitments shouldn't be written about. On the contrary, the more open successful people are about their personal lives, the less we believe that anyone, male or female, can be all business, or should be. But an article that focuses on Nyberg's role as a wife and mother next to her coworker's professional accomplishments and expertise isn't doing men or women any favors.
BEFORE YOU GO
PHOTO GALLERY
Women In Space