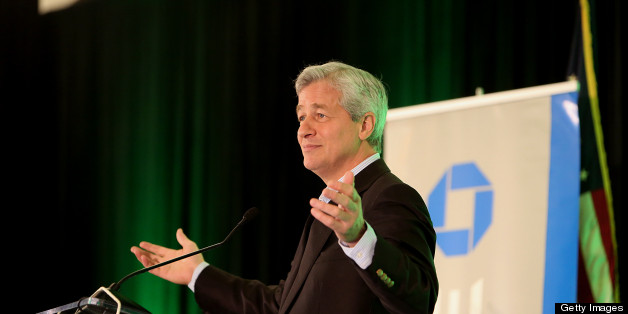 When it comes to working the refs, no bank works harder than JPMorgan Chase.
The biggest U.S. bank by assets spent $8 million lobbying Congress on financial reform and other topics last year, outpacing every other large bank, according to the Center for Responsive Politics. The second-biggest U.S. bank, Bank of America, spent just $3 million on lobbying last year, according to CRP data. That spending equates to the amount JPMorgan spent in the fourth quarter alone, MarketWatch reported on Thursday.
The second-biggest lobbying spender among banks last year was Wells Fargo, which spent $6.8 million, according to CRP. Banks are not the heaviest spenders on lobbying -- JPMorgan ranked only 47th in corporate lobbying spending last year. But industry groups like the Chamber of Commerce (which spent $136 million on lobbying last year) and the Business Roundtable ($14 million) do a lot of lobbying on their behalf.
JPMorgan's fourth-quarter lobbying was the heaviest since the CRP started keeping quarterly records back in 2008, MarketWatch points out. The bank consistently outspends rivals on lobbying, but it had an extra-special need to plead its case last year. The bank is knee-deep in several pickle barrels of regulatory trouble, starting with its $6 billion "London Whale" trading loss and including alleged manipulation of Libor and energy markets. And this doesn't include CEO Jamie Dimon's regularly scheduled crusade to proselytize/whine about the horrors of regulation.
JPMorgan lobbies so hard that some of its shareholders recently tried, at the bank's annual meeting in Tampa, to get the bank to disclose more about its lobbying efforts. That effort suffered a crushing defeat, getting just 8 percent of the vote of all the bank's shareholders. JPMorgan will go on lobbying to its heart's content, thank you very much.
Another shareholder proposal soundly defeated at the annual meeting was one to strip Dimon of his chairmanship of the board, partially in response to the London Whale trading loss. This victory for Dimon, the bank, and wealthy elites everywhere was the result of another very expensive and time-consuming lobbying effort by JPMorgan, this one involving shareholders instead of Congress.
Ironically, one rule the bank has lobbied Congress hard about is the Volcker Rule, which prohibits banks from trading with their own money. That rule might have prevented the London Whale loss and saved Dimon & Co. the need to lobby shareholders to save one of his jobs.
At the annual meeting, Dimon declared that his bank had never lobbied against the Volcker Rule, but rather tried to educate people about how important it is for America to "maintain the widest, deepest, best and most transparent capital markets the world has ever seen."
Of course, the implication of this statement is that the Volcker Rule could well destroy our capital markets, which is the way Dimon and JPMorgan lobby against stuff while still being able to say, almost with a straight face, that they're not really lobbying. Nice economy you've got here, shame if anything should happen to it because of regulations. That's all they're saying!
As Dimon noted, the First Amendment does give JPMorgan the right to lobby as much as it wants. All people, corporate or human or otherwise, have a right to make our voices heard. It's just that some of us don't have $8 million per year to spend on it.
The main topic JPMorgan has helpfully tried to "educate" Congress about recently is derivatives regulation. The bills the bank lobbied about most often last year involved loosening the regulations Congress tried to place on the financial instruments that were at the heart of the last financial crisis (and the London Whale debacle, for that matter). But it's OK: If derivatives cause another crisis, the bank can always lobby for another bailout.
BEFORE YOU GO
PHOTO GALLERY
Bankers Who Want To Break Up Big Banks