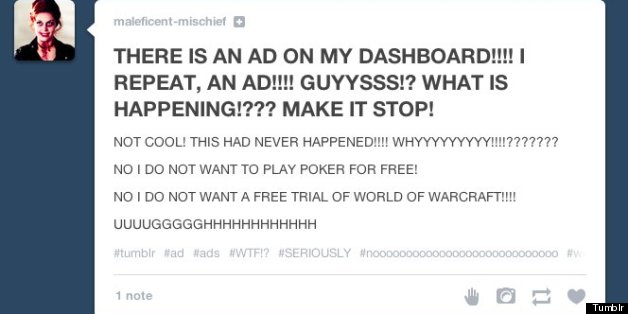 Tumblr introduced a new form of advertising to the site on Thursday, setting off a chorus of criticism from users surprised and miffed to see brands' messages in their feeds.
The changes appear to have been in the works well before Yahoo's splashy $1.1 billion acquisition, announced earlier this month. Tumblr rolled out sponsored posts to its once ad-free site last year and had plans to increase advertising on the site even before the acquisition.
Tumblr had already introduced ads to the Radar and Spotlight sections of its site, where Tumblr highlights noteworthy content and accounts, and to the mobile version of its site. Starting this week, Tumblr is giving sponsored posts even more visibility, telling users they'll now see ads in their Dashboard, the main feed of posts users see when they log on to the site. (The mobile Dashboard already offered such ads.)
According to TechCrunch, users will see no more than four ads in their feed a day, and ads will be identified by a dollar-sign on the top right-hand corner.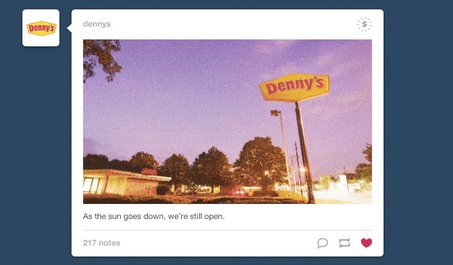 An ad from Denny's as it appears in the Tumblr Dashboard.
Tumblr promised in its announcement that the sponsored posts "will simply blend in with the posts from the blogs you follow," but users aren't so sure.
Some Tumblr users predictably prickled at the influx of advertising in their feed, asking for tips to get rid of the ads and complaining they were, "REALLY DISTURBED AND CONFUSED AT THESE INSTREAM ADS."
"There was not just an advertisement on my dashboard," wrote one Tumblr user, with a screenshot of the new in-feed ad. "Please, tell me this isn't happening."
Yahoo was blamed by many for the sponsored posts, and users had previously threatened to leave the site in protest of Tumblr's new corporate parent. WordPress, a competing service, reported a spike in new accounts following the announcement that Yahoo was acquiring Tumblr.
More advertising will inevitably be finding its way to Tumblr soon, and Yahoo chief executive Marissa Mayer noted that Yahoo, which boasts an army of sales people more than 2,500 strong, will help Tumblr beef up its sales operations, which are currently manned by a team of just 25.
Here's a look at how Tumblr users are welcoming the new Dashboard ads: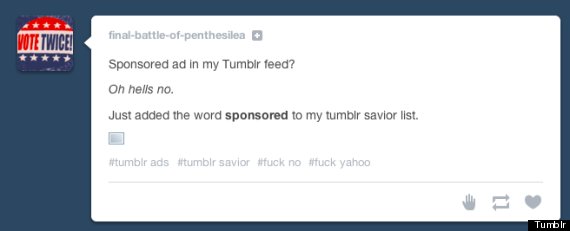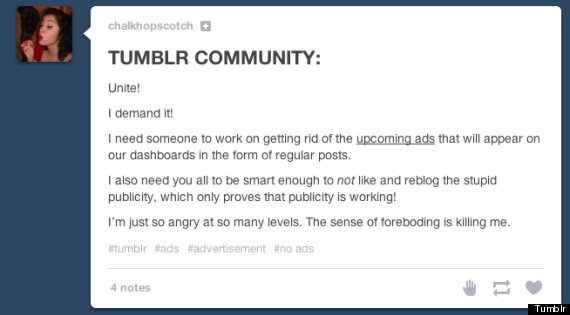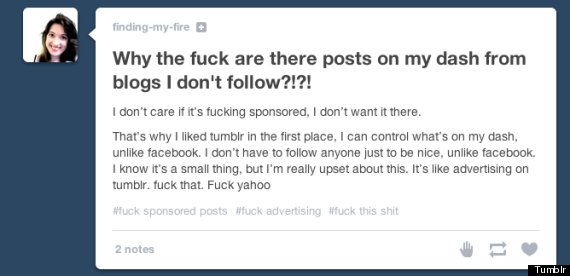 BEFORE YOU GO
PHOTO GALLERY
The 8 Most Positive Blogs On Tumblr