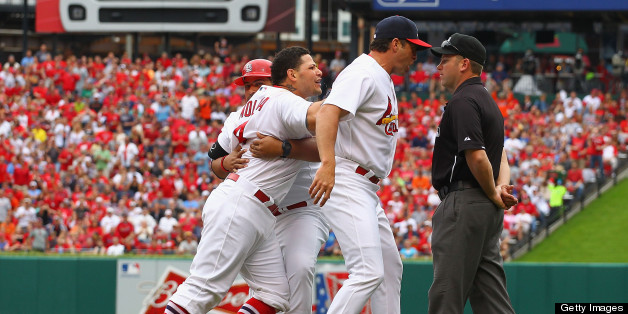 First base umpire Clint Fagan had a quick hook. St. Louis Cardinals catcher Yadier Molina had a short fuse. This proved a combustible combination on Sunday as Fagan ejected Molina, leading to an epic meltdown from the four-time All-Star.
With two men on and two outs, Molina hit a sharp ground ball toward left field and Giants shortstop Brandon Crawford made a diving stop. Crawford then barely threw Molina out at first base. A frustrated Molina threw his helmet onto the ground and started walking to the dugout, but Fagan immediately tossed him from the game.
The quick ejection made Molina so furious that his brother and St. Louis first base coach Bengie Molina had to work hard to separate him from Fagan.
CLICK HERE to watch the video of the play.
Following San Francisco's 4-2 win, Molina told Jenifer Langosch of MLB.com that he wasn't upset with getting called out.
"I thought I got a base hit, and they made a play. I knew I was out. I wasn't upset that he made the call. I was upset with myself. I tried to hold my helmet," Molina said.
Cardinals manager Mike Matheny echoed Molina's words and said he doesn't "understand how that call can be made if you're not out looking for it."
"The explanation was that he threw his equipment," Matheny said, via the St. Louis Dispatch. "It's a very poor explanation in my mind. A shame, you know, the guy plays with passion. He's frustrated with himself, which happens every single day in this league, and the wrong decision was made.
BEFORE YOU GO
PHOTO GALLERY
2013 MLB Season Highlights