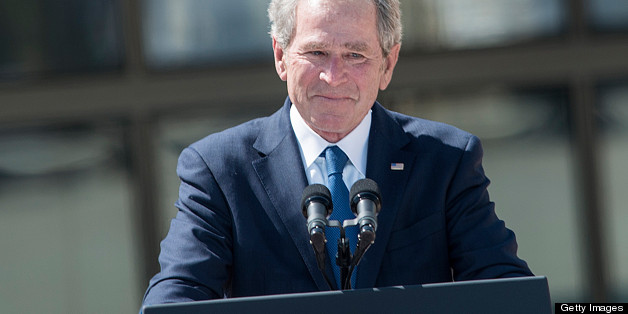 Apparently Americans are none too eager to see a Bush each time they reach into their wallets for who knows what.
According to a new poll published by Vanity Fair, only 6 percent of Americans would prefer former presidents George H.W. Bush or George W. Bush "to be the face of a new bill." Bill Clinton, Jimmy Carter, Barack Obama and Ronald Reagan were all more popular choices for the hypothetical honor. For those interested, Reagan took top honors scoring a whopping 38 percent of the vote.
The poll, which asked a variety of questions that garnered some disturbing results -- "Born In The U.S.A." for the national anthem? Seriously? -- interviewed 1,072 adults between April 18 and 21. You can see the complete poll results over at the Vanity Fair website.
Just to be clear, this was a poll based on a hypothetical question, so don't expect to see Reagan on your greenbacks anytime soon.
Dubya has kept a low profile in the years since he stepped down from office, but recently told HuffPost reporter Jon Ward he was "not surprised" that current President Barack Obama was "having a difficult go" in his second term. The George W. Bush Presidential Library and Museum publicly opened last month (see photos below).
BEFORE YOU GO
PHOTO GALLERY
George W. Bush Presidential Library Ceremony