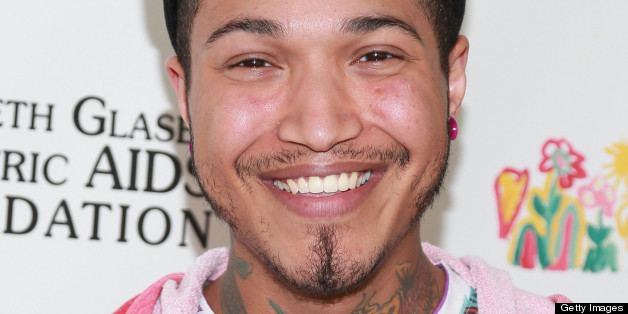 Twenty-five years later, the story of one Los Angeles mother's fight to save her son from an AIDS-related death still resonates with Hollywood families.
Celebrities like Gwen Stefani and Gavin Rossdale, Tia and Tamera Mowry, and Tom Arnold came with small children Sunday to the 24th annual "A Time For Heroes" celebrity picnic fundraiser for the Elizabeth Glaser Pediatric AIDS Foundation, a non-profit dedicated to the global eradication of pediatric AIDS. Laid out on the Creative Artist Agency's lawn for the event was a simulated surfing ride and skateboard decorating for the older kids, carnival games and bubble machines for tots and musical performances on a main stage for all.
The happy scene seemed worlds away from the AIDS crisis in sub-Saharan Africa, where most of the non-profit's programs are located. But for one celebrity attendee, the cause was deeply personal.
Singer Jamar Rogers, 31, shot to fame as a semifinalist on the second season of NBC's "The Voice" in 2012. But in addition to getting attention for his soulful renditions of "I Want To Know What Love Is" and "If You Don't Know Me By Now," Rogers made headlines for revealing his HIV-positive status on the show. Rogers has been living with HIV for eight years now, and the singer has made HIV/AIDS activism front and center of his growing career. He had strong words for President Barack Obama and Congress during a red carpet interview with The Huffington Post.
"I love the president, I support him, but I really do think that it's kind of a travesty that George W. Bush did more for AIDS/HIV research than Barack Obama," Rogers said. "With all the austerity measures that are happening, obviously HIV funding and research is one of the areas that are getting cut."
Bush's HIV/AIDS initiative increased the number of HIV-infected people receiving anti-retroviral drugs from 50,000 to nearly 2 million during his administration, reports The Washington Post. By 2012, more than 4 million people globally were being treated with the drugs. The Post called the effort Bush's "greatest legacy," while the Chicago Tribune called Bush the greatest humanitarian to ever serve as president.
Obama's proposed 2013 budget cuts funding for the HIV/AIDS initiative by nearly $550 million, or 11 percent, notes The Hill.
Rogers said that while his music career has been gratifying, he is focused on his main purpose: help and hope for people living with HIV/AIDS. In addition to working on his new album, to be released July 30, Rogers said he is considering invitations to Uganda, Malawi and the Dominican Republic -- trips designed to decrease stigma about HIV/AIDS diagnoses.
"Who cares about fame? I really don't care about the red carpet," Rogers said. "I really want people to live. To me, that gives my life value."
Rogers performed a five-song set at the celebrity picnic, including original songs "Drink Of You," "Where Would I Be Without You," and "High." He shared the stage with "American Idol" runner-up Jessica Sanchez and children's song performer Jambo.
Approximately 700 people attended the four-hour event, which so far has raised approximately $600,000, according to the foundation. Over 24 years, the event has raised $34 million for pediatric AIDS research. This year's picnic was sponsored by Disney and co-chaired by Willow Bay, a Huffington Post senior editor.
The non-profit is named for Elizabeth Glaser, who contracted HIV through a blood transfusion in 1981. She unknowingly passed the virus to her daughter, Ariel, through breast milk, and her son, Jake, in utero. When Ariel died of AIDS in 1988, Glaser vowed to spare her son the same fate and created a foundation to raise money for pediatric HIV/AIDS research. She died in 1994, but her work lives through her organization and her son, who is now a healthy adult.
Check out photos of the event in the slideshow below.
PHOTO GALLERY
Scenes From 'A Time For Heroes' 2013 In Los Angeles