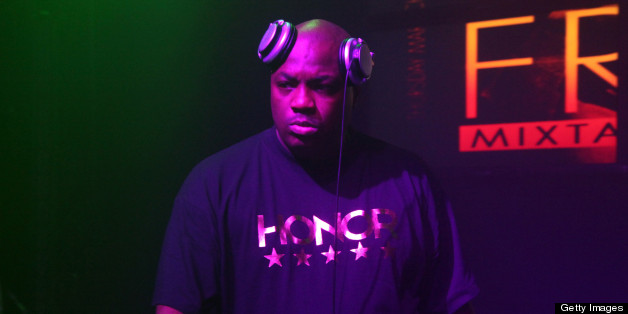 Featuring appearances by Lil Wayne, Nicki Minaj, Lil Kim, Mariah Carey and more, Summer Jam XX was full of exciting surprises. Unfortunately, however, Sunday's installment of Hot 97's annual summer bash may be remembered for one of the evening's low points.
Embattled Hot 97 DJ Mister Cee was spinning between performers when he decided to ask for a moment of silence for Oklahoma tornado victims, and then proceeded to play "RIP," a song by Young Jeezy that isn't really about remembering one's lost ones. Here's the hook: "RIP We just killed the club, drink patron out the bottle almost killed a thug / When I'm so high, I can't feel the drugs / Too many haters in here, I don't feel the love."
Twitter instantly exploded in shock at Cee's indiscretion (see the gallery below). This is hardly the first bout of controversy for the legendary DJ and radio personality, who was arrested for allegedly patronizing a prostitute in May. Rumors that the undercover cop who posed as a prostitute was male were denied by Mister Cee, who has been denying that he's gay for some time now (in 2011, he pleaded guilty to loitering for the purpose of engaging in a prostitution offense, and the prostitute in the case was a 20-year-old male). According to MTV, the DJ has said he sought out counseling for his addiction to prostitution.
As of Monday morning, the death toll from tornadoes in Oklahoma had reached 16.
PHOTO GALLERY
Twitter Reacts Mister Cee's "Tribute"
BEFORE YOU GO