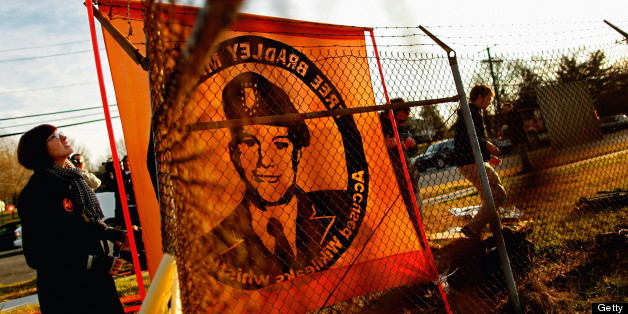 New York Times public editor Margaret Sullivan noted on Monday that the paper has once again devoted less coverage to the Bradley Manning trial than other outlets.
Manning, who has admitted he leaked classified information to WikiLeaks, is set to start trial on Monday. He faces life in prison for his actions.
Though the Manning story is unquestionably huge--from the details of his controversial detention to the implications of his prosecution--the Times has been criticized in the past for seemingly skimping on coverage. In October, Sullivan called the choice "simply weird," noting that Manning, through WikiLeaks, had been a huge source of news for the Times.
Moreover, the Times has come up directly at several points in Manning's ongoing legal proceedings. In a lengthy statement about his dealings with WikiLeaks, Manning said that he had attempted to contact the paper with his information before turning to Julian Assange.
What's more, Manning faces a charge of "aiding the enemy" for leaking to WikiLeaks, and government prosecutors have said that he would be facing the same charge if he had leaked to the Times--a statement that has deeply troubled many journalists for its implications.
On Monday, Sullivan pointed out that there was no article in the morning's Times about the Manning trial, and she directed readers to a rival publication:
No advance story on #bradleymanning's court-martial, which begins today, in @nytimes.Here's one from @latimes: latimes.com/news/nationwor...

-- Margaret Sullivan (@Sulliview) June 3, 2013
UPDATE: The Times' Charlie Savage reported from the trial on Monday.
BEFORE YOU GO
PHOTO GALLERY
Julian Assange