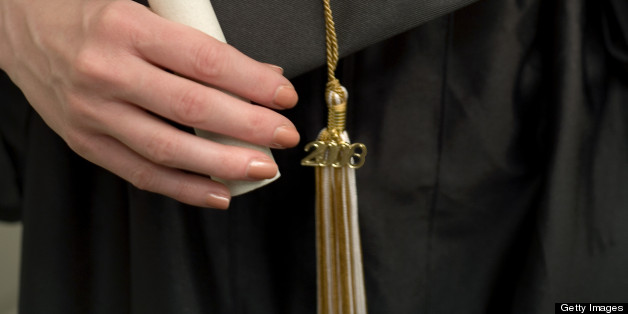 Great news for Chris Calderon-Perez: the 17-year-old Fostoria High School student has won the right to wear a girl's graduation robe to her 2013 commencement ceremony.
As the Columbus Dispatch reports, Calderon-Perez was initially told that she would would have to wear the male graduation attire -- a shirt and tie -- paired with a black robe as opposed to a red robe for women.
The teen had at first consulted her principal Tom Grine, who she says was "professional," but still disappointing.
Grine was allegedly conflicted between Fostoria's gender-based dress code and its newly-added lesbian, gay, bisexual and transgeder (LGBT) non-discrimination policy, as Gay Star News notes.
Calderon-Perez has identified as a female for the past two years. The Puerto Rican transplant, who presented herself as a girl during her senior prom, said that she felt "awful" and only wants her mom to be proud.
"All I want to see is my mom proud of me, to see me walking — because I deserve it," she is quoted by the Columbus Dispatch as saying. "My academic achievement has nothing to do with my appearance."
Meanwhile, Grine said his job is to enforce the board policy "the way it reads."
Awkward is not how the school district wants any student to feel, said Thomas Guernsey, president of the Fostoria Board of Education. He added that in the future, the policy may be amended to allow transgender students to wear the robes of the gender of which they identify or just let require students to wear black robes.
"It's a tricky situation," he said. "It's probably going to happen more and more as society evolves in this manner, and this probably won't be the last time we deal with this."
This joyful situation happened almost a month after a New Mexico-based transgender student Damian Garcia was nixed by his school in regarding to walking during his graduation ceremony in the cap and gown designated for boys.
Garcia's Catholic school insisted that he must wear a white cap and gown during the ceremony. The administration overlooked the fact that the transgender boy recently legally changed his name and his family and teachers refer to him as Damian, as 429 Magazine noted at the time.
BEFORE YOU GO
PHOTO GALLERY
15 Things To Know About Being Transgender By Nicholas M. Teich