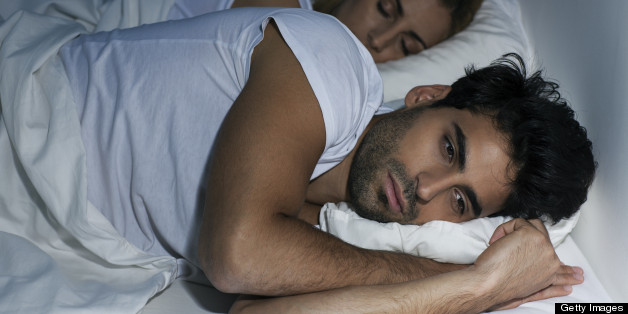 There is a link between sleep and post-traumatic stress disorder symptoms after a heart attack, according to a new study.
The findings, published in the journal Annals of Behavioral Medicine, show an association between worsened PTSD symptoms and poor sleep post-heart attack. Worse sleep included factors such as bad overall sleep, sleeping pill use, sleep disturbances and short sleep duration.
"The strong association between ACS [acute coronary syndrome]-induced PTSD and sleep may be due to the fact that disturbed sleep is embedded in the PTSD phenotype and its diagnosis," researchers wrote in the study. "However, results of recent treatment studies for PTSD and sleep disturbance suggest that the two conditions may be most usefully conceptualized as comorbid, rather than one being merely a symptom of the other."
Post-traumatic disorder -- which is caused by experiencing a traumatic event, and often has symptoms including flashbacks, nightmares, emotional problems and anxiety -- is often thought as a condition that affects people like rape survivors or war veterans. But it's actually quite common among heart attack survivors, according to a study in the journal PLoS ONE from Columbia University researchers. The New York Times reported on the study, which showed that about one in eight heart attack survivors will develop PTSD.
The new study, conducted by researchers at Yale University, Columbia University Medical Center and the Robert Wood Johnson Medical School, included 188 people, who had had a heart attack within the past month. Researchers measured their sleep quality as well as their PTSD symptoms
The results of the study mirror that of past studies, some of which have shown that sleep disturbances plague up to 70 percent of people with PTSD, the researchers said. Indeed, a 2012 study in the European Journal of Psychotraumatology showed that "sleep is a precipitating and perpetuating factor in PTSD symptomatology, creating a perpetual circle."
"Disturbed sleep due to nightmares increases the risk for PTSD. PTSD in turn leads to increased sleep fragmentation, decreased GH secretion, and frequent nightmares, which may again compromise fear extinction, synaptic plasticity, and recovery," the researchers wrote in that study.
Recently, research has shown that mindfulness training could play a role in decreasing PTSD symptoms. A study in the Journal of Clinical Endocrinology & Metabolism showed that meditation and stretching seems to decrease symptoms and increase levels of the stress hormone cortisol (in people with PTSD, cortisol levels are abnormally low, and they benefit from having those low levels brought up).
Similarly, a study in the journal Depression and Anxiety showed that mindfulness could also play a part in making PTSD symptoms less severe.
BEFORE YOU GO
PHOTO GALLERY
Tips To Sleep Better