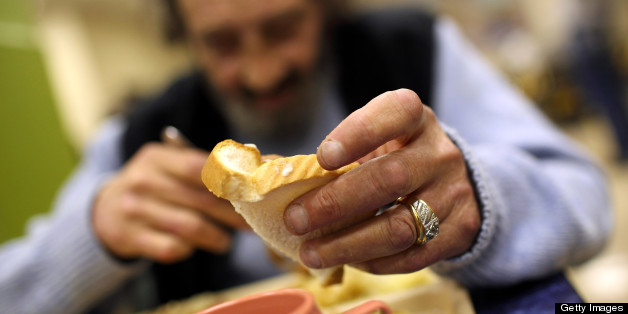 Soup kitchens are often an essential resource for deeply impoverished individuals across the United States. But a new analysis shows that the free meals provided in many of these establishments are high in fat and low in other essential vitamins--an especially problematic situation for those who receive little other sustenance.
The analysis, released last month by researchers at the University of California San Francisco's Center for Vulnerable Populations at San Francisco General Hospital, examined the nutritional content meals handed out at sites across San Francisco and found that, by and large, the meals had an unhealthy amount of fat while providing low levels of fiber, calcium and vitamins A and E.
"We really want to be interested in providing not just any calories but the right kind of calories," said Dr. Courtney Lyles, a research specialist at USCF and lead author of the study. "The breakdown is really between donated food versus fresh fruit and vegetables. The meals tended to do well in areas like protein, but lacked in micro-nutrients, which primarily come from fresh fruits and vegetables."
The study looked at 22 meals--varied between breakfast, lunch and dinner--handed out at six different sites across San Francisco on non-consecutive days.
While there isn't a great deal of literature on the subject, Lyles noted that it wouldn't be surprising to find similar results in other cities because incorporating a significant proportion of fresh fruits and vegetables is a common challenge facing many soup kitchens around the country.
The health content of the meals provided by soup kitchens can often be an afterthought to simply making sure that everyone has enough to eat. However, since the population served by soup kitchens tends to lack access to health care, chronic diet-related diseases like diabetes and hypertension can often go untreated in a medical setting--leaving more of the burden of managing these conditions directly on food intake.
"This is something we struggle with all the time," said Karl Robillard, a spokesman at St. Anthony's, one of the largest homeless services organizations in San Francisco. "The need for fresh fruits and vegetables is paramount."
Robillard noted that one of the ways his organization works to get healthier meals is to coordinate directly with farmers for donations. "If a peach falls on the ground, it can no longer be sold to grocery stores, but that doesn't mean it's not edible," he explained, noting that his organization's cost averages out to about fifty cents per meal. "Those are the sorts of things we regularly get donated from both large- and small-scale farms in California."
Robillard recounted how, when pro golf's U.S. Open came to San Francisco a few years ago, the food vendor donated all of the event's leftovers to St. Anthony's, which allowed the organization to give out a whole host of healthy, tasty food items.
A report by the U.S. Conference of Mayors notes that, as a result of the recession, there's been a 24 percent increase nationally in the demand for emergency food services.
Many urban areas where homeless people tend to congregate, such as San Francisco's Tenderloin District, have been labeled "food deserts," because there are few places where residents can purchase fresh, healthy food.
In response, the city has pushed to allow a neighborhood farmers market to operate multiple days per week and, thanks to recent government efforts, many farmers markets have begun accepting food stamps.
BEFORE YOU GO
PHOTO GALLERY
Barber Gives Homeless Haircuts For Hugs