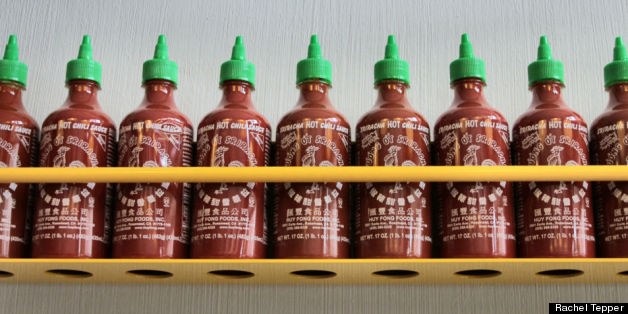 Do you love sriracha? You know, the spicy sauce of Thai origin, which these days seems a suitable topping for an ever-expanding range of foods, from macaroni to omelettes. Luckily for sriracha-philes, a movie about the stuff is in the works.
Griffin Hammond, an Illinois-based filmmaker, is making the condiment the center of an upcoming documentary that seeks to delve into its history and ascent to sauce stardom. Hammond doesn't have much footage to show yet, but he's already spoken on camera with Randy Clemens, author of The Sriracha Cookbook, and Tyler Raineri, the Illinois State University student whose sriracha-flavored potato chip idea earned him a place as finalist in Lay's Do Us A Flavor competition. (Raineri didn't win, but he did walk away with $50,000.)
Hammond has also visited the Huy Fong Foods factory, where a popular version of the sauce is made, and scoped out vast fields of jalapeño plants.
The documentary's Facebook page promises that the film will be ready to watch in September of 2013. We'll keep our eyes peeled. Below, watch Hammond talk about his pre-production process.
[h/t OC Weekly]
BEFORE YOU GO
PHOTO GALLERY
Sriracha Recipes