When Westinghouse Electric told U.S. women, "We can do it!," to boost worker morale in 1943, we're pretty sure they didn't have household chores in mind. But now, Swiffer is appropriating the famous symbol of female economic power in an ad campaign to sell their cleaning products.
Over the weekend Boing Boing caught Heather Beschizza's tweet about the ad. "We can do it! Because cleaning kitchens is a woman's work," she tweeted, along with a photo.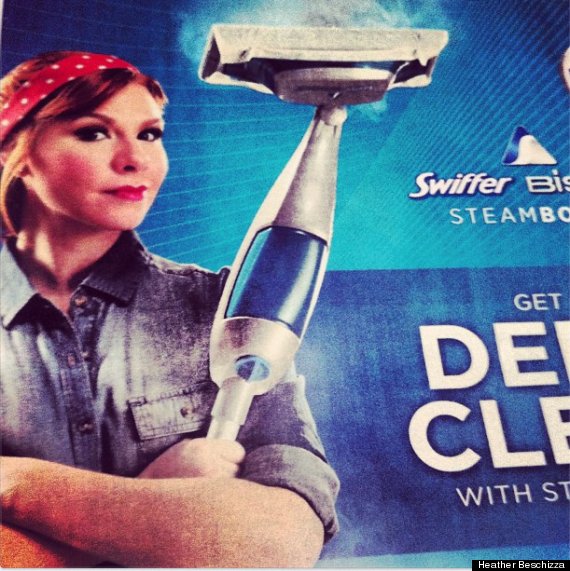 Some have called the image insulting and sexist, since the original Rosie the Riveter poster, created during WWII, was intended to promote women working outside of the home and has come to represent strong women in all spheres. Boing Boing's Rob Beschizza quoted the site's publisher Jason Weisberger, "I love the clear tribute to an important historical image done in such a way as to piss on its legacy." And ThinkProgress' Annie-Rose Strasser pointed out that the advertisement's timing is particularly poor given the recent news that American working moms are the primary breadwinners in 40 percent of households with kids.
Next time you want to market to women, be a little more creative and a little less insulting, Swiffer. You can do it!
UPDATE: 6/3 6:29 p.m. -- We received an email from a Swiffer spokesperson with the following note:
We are aware of the concerns regarding an image in a Swiffer ad. Our core purpose is to make cleaning easier for all consumers, regardless of who is behind the handle of our products. It was not our intention to offend any group with the image, and we are working to make changes to where it is used as quickly as possible.
[H/T ThinkProgress]
BEFORE YOU GO
PHOTO GALLERY
Sexist Vintage Ads