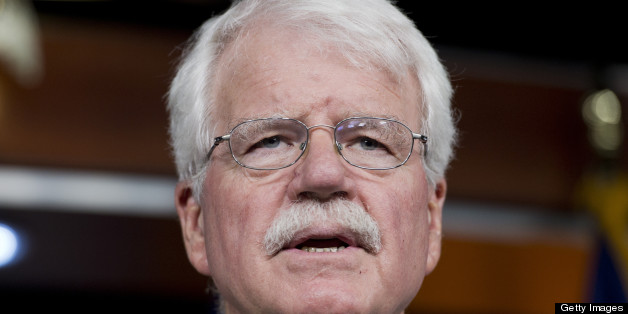 WASHINGTON -- With its mismatched curtains and ivy-covered front yard, D.C.'s real Alpha House is not very alpha looking.
But the dreary exterior of the Capitol Hill row house belies its status as the high-profile crashpad of a handful of Democratic members of Congress. "Of course it's famous," Rep. George Miller (D-Calif.) told The Washington Post. "How could it not be famous?"
Miller first began taking in weary lawmakers in 1982, just five years after he purchased the house for around $90,000. Miller currently lives there with Sens. Chuck Schumer (D-N.Y.) and Dick Durbin (D-Ill.), the former whom, Miller claims, hasn't made his bed in close to twenty years.
The house was the subject of a New York Times profile in 2007 and, more recently, has inspired Garry Trudeau's political satire "Alpha House," which was just green lighted by Amazon.
If you think a group of gray-haired lawmakers living together in a D.C. group house sounds like a less than scintillating subtext, you're not alone.
In the original Times profile of the house, Durbin was quoted as saying that, in theory, the house was ripe for a reality television show, but "then they realize that the story of four middle-aged men, with no sex and violence, is not going to last two weeks." Trudeau said he fixed that problem by opting to write about Republicans.
"I never gave any thought to doing the show about Democrats for a simple reason — at the moment, they're pretty boring," he said in a recent interview. "Republicans, on the other hand, are tearing themselves apart and will be for the foreseeable future. Three of my four guys were elected prior to the Tea Party, so as old-school Republicans, they're compromised and vulnerable. Which makes them far more interesting to write about."
BEFORE YOU GO
PHOTO GALLERY
D.C.'s Most Expensive Houses