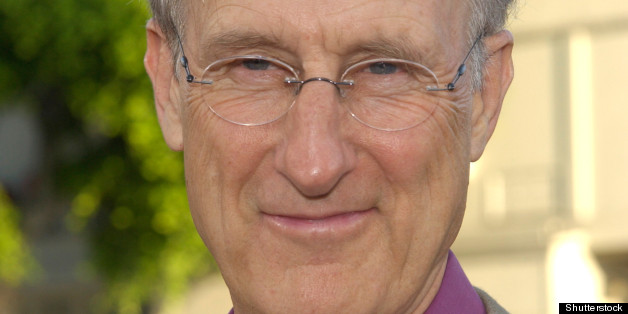 Actor James Cromwell is perhaps best known for bonding with a pig in the 1995 movie "Babe," but apparently he has a soft spot for horses, too.
On Tuesday, Cromwell sent a letter to Belmont Stakes officials asking that they memorialize the 35 horses that have reportedly died at Belmont Park racetrack since the 2012 Triple Crown race.
Cromwell requested that the names of the horses be printed in the raceday program on a special tribute page.
"Will you, amid the festivities of the Belmont Stakes day, remind racegoers that these horses were once as alive and full of energy as the thoroughbreds they will see racing on June 8?" Cromwell wrote in the letter provided to The Huffington Post by PETA.
In his plea, addressed to New York Racing Association (NYRA) Chair David J. Skorton and steward Carmine Donofrio, Cromwell called horse racing the only sport with a "predictable death toll" and accused the racing industry of treating the horses as "collateral damage."
The NYRA did not respond immediately to a request for comment.
Scroll for the complete body of the letter (without the horses' names).
A 2012 New York Times report criticized horse racing as "an industry still mired in a culture of drugs and lax regulation and a fatal breakdown rate that remains far worse than in most of the world."
In his letter, Cromwell noted that New York had improved conditions for horses but that did not alter the history of "catastrophic breakdowns."
Cromwell is a well-known advocate for animal rights. In February he crashed a University of Wisconsin Board of Regents meeting to protest university experiments on cats. He later paid a $100 fine for disorderly conduct, the Capital Times reported.
LOOK: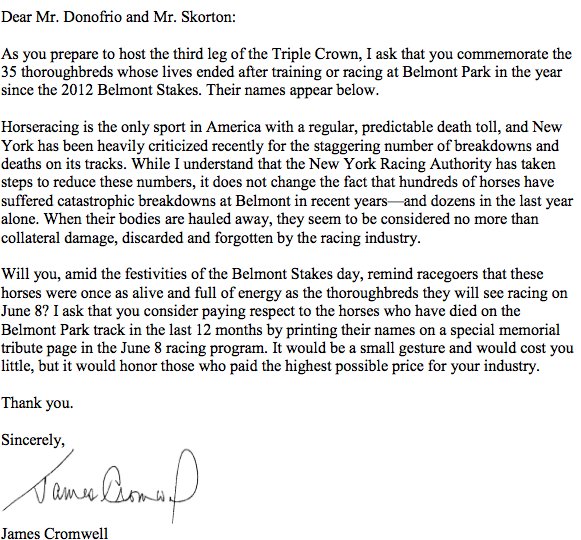 BEFORE YOU GO
PHOTO GALLERY
10 Worst States For Animal Abuse Laws