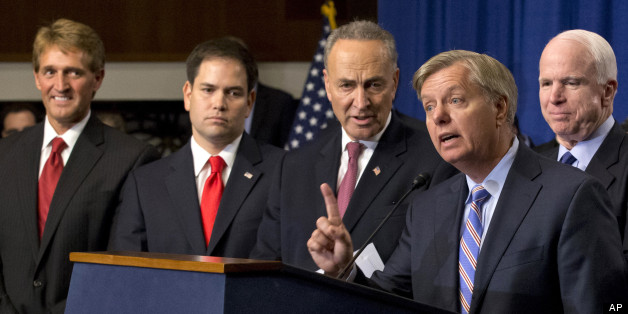 WASHINGTON -- Sen. Marco Rubio (R-Fla.) has made some immigration reform advocates nervous by insisting that the Senate "gang of eight" bill he helped draft needs more changes before it can pass, but fellow members of the group said on Tuesday that Rubio is still fully on board.
Asked whether Rubio is "100 percent" behind the bill, Sen. Lindsey Graham (R-S.C.) said he thinks his Florida colleague is simply making an effort to garner more support from Republicans.
"I think he's committed to immigration reform, he's looking for ways to make it better and grow the vote, absolutely," Graham told reporters. "And enhancing border security is the way to do that on the Republican side."
Rubio has been one of the top conservative spokesmen for the bill, which was authored by four Republicans and four Democrats and will likely be taken up by the full Senate next week. While Graham and Sens. John McCain (R-Ariz.) and Jeff Flake (R-Ariz.) have been vocal in support of their legislation, Rubio has been the one really touting the need for reform on television and radio, which in turn has attracted ire from those who consider the bill "amnesty."
He has argued that the bill could be strengthened by adding more border security measures. "There will have to be improvements," Rubio said Monday in a video message to constituents, pointing specifically to enforcement mechanisms and the guest worker program.
Rubio said on "Fox & Friends" earlier Tuesday that the legislation currently lacks the 60 votes needed to get past a filibuster.
"I think even the Democrats would concede that," he said. "One of the things we've learned over the last few weeks -- through the open process that happened through the committee process and all the public input that we've gotten -- is how little confidence people have that the federal government will enforce the law."
Last week, Senate Majority Leader Harry Reid (D-Nev.), who supports the bill, said he doesn't expect it to be difficult to get to 60 votes. Graham seemed more in agreement with him than with Rubio.
"Yeah, we've got 60, I'm sure," Graham told reporters Tuesday. "My goal is to get half the [Senate Republican] conference. From our party's point of view, if this thing falls apart and we get blamed because we're not practical, we created border security mechanisms that were unachievable, we tried to change the structure in a dramatic way and we get the blame, we're toast in 2016."
The South Carolina senator made a similar warning about the structure of the bill when discussing potential changes to the border security triggers, which Rubio has discussed making. Currently, the bill would allow some undocumented immigrants to move toward citizenship once certain advancements have been made in border enforcement plans and implementation, but Rubio and other senators have floated the idea of altering exactly how that process would work. Graham said there could be changes, but the triggers need to stay consistent.
"If you change the trigger, it would probably fall apart," he said. "Having unachievable triggers is not going to be acceptable to our Democratic colleagues."
Sen. Chuck Schumer (D-N.Y.), another member of the gang of eight, said the Democrats are willing to be flexible, but they have "some bottom lines on the triggers," which were already negotiated by the gang of eight and within the Judiciary Committee (Rubio is not a member of that panel). The Democrats insist that the border triggers be achievable and mandated to go into effect even under a new president who opposes a path to citizenship.
But Schumer didn't seem to think Rubio's statements implied that the Republican disagreed with that plan.
"We have not had much disagreement among our group on the triggers," Schumer said. "As to, apart from the triggers, how to best get border security, Senator Rubio and others are exploring strengthening the border security provisions, and we're open to that, and welcome it actually."
BEFORE YOU GO
PHOTO GALLERY
Sen. Marco Rubio