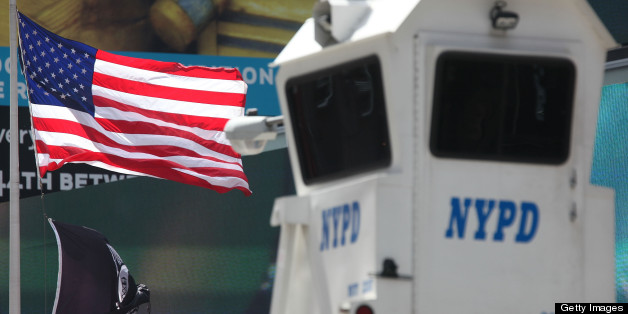 Responding to a bloody weekend in which seven people were killed and more than two dozen were shot, the NYPD on Monday beefed up police staffing at public housing developments, and deployed mobile and stationary observation towers for patrols, officials said.
In addition, plainclothes officers are being assigned to anti-crime units citywide at crucial periods, and officers were told to track and arrest those wanted on outstanding warrants, said police spokesman Paul Browne.
He said investigators also would monitor gang crews to try to prevent retaliations for the weekend's shooting spree.
Among those hurt in the weekend gunfire, which began late Friday, was 11-year-old bystander Tayloni Mazyck of Brooklyn, who police said appears to have been paralyzed Friday night by a stray bullet outside her Bedford-Stuyvesant apartment. Police suspect Tayloni was struck by a bullet fired by Kane Cooper, 17, as he fired at rival gang members.
Cooper was arrested Saturday and was held without bail on charges of attempted murder, assault, reckless endangerment and other counts, said a spokesman for Brooklyn District Attorney Charles Hynes.
Mayor Michael Bloomberg chalked up some of the violence to the hot and humid weather this past weekend, which he said often leads to short tempers and higher crime. But at the same time, Bloomberg said the number of shootings for the year is way down from the same period a year earlier.
"The bottom line is, including this weekend, we have the lowest number of shootings that we've had in a decade, OK?" Bloomberg said in response to a question Monday about the weekend violence. A mayoral spokesman said later that Bloomberg was referring to year-to-date trends in making his overall comparison.
Bloomberg also said the city remains safe. He could take heart from the latest FBI crime statistics, which on Monday showed that the city last year had the second-lowest "murder" rate per 100,000 population of any major U.S. city with more than 1 million people, behind San Diego. The city rate for all homicides was 5.05 per 100,000, compared with 3.51 per 100,000 for San Diego.
There were 26 shootings including seven homicides this weekend, Browne said, although some unofficial tallies put the shootings at 25 and homicides at eight. Police didn't have a borough-by-borough breakdown of the shootings. Three shooting victims were younger than 16.
"Even with the weekend shootings, homicides are still down 24 percent from last year," Browne said.
He said there have been 127 killings in the city so far in 2013, down from 167 last year.
According to NYPD statistics, there have been 383 shooting incidents involving 439 victims through June 2, compared with 522 shootings and 615 victims in the same period of 2012. That represents declines of 28.6 percent in the number of victims and 26.6 percent in the total shooting incidents.
"This happens," former NYPD Det. Sgt. Joseph Giacalone said of the blip in shootings in what has been a less violent year in the city. "It happened last year, too. The only thing you have to make sure that you are not dealing with a gang war or drug wars."
Giacalone expressed concern that with fewer of the controversial stop-and-frisk searches done by police -- 51 percent fewer were conducted in the first quarter of the year compared with the same period in 2012 -- street criminals are becoming emboldened.
"The bad guys follows these things," Giacalone said. "This is something that has to be monitored."
Police late Monday said they were questioning a man whom they called a person of interest in the shooting of three men in the Prospect Lefferts Gardens section of Brooklyn on Sunday. ___
BEFORE YOU GO
PHOTO GALLERY
Stop And Frisk Goes On Trial In NYC