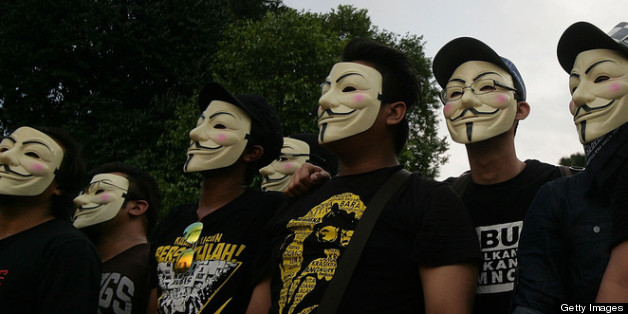 After a hugely successful fundraising campaign on Indiegogo, Your Anon News, an arm of hacktivist group Anonymous dedicated to sharing news on social media, is nearly ready to launch its own full-fledged news website.
The news-gathering group plans to make its websites more collaborative than traditional news sites. A "social chat feature" will replace a comments sections and Twitter will be deeply integrated into the page, according to a Pastebin statement outlining new details of the site. Previously, the group said that it wanted to feature the contributions of "citizen journalists".
"Its time to start getting the real news out there, to everyone," Your Anon News wrote. "We have to stop relying on big corporations to do that for us." The group hasn't given a release date yet.
Your Anon News made a name for itself on Twitter, where it has gained more than 1 million followers, sharing news stories about causes that Anonymous cares about in addition to news on Anonymous itself.
Looking to move beyond that platform, as well as its Tumblr blog, the organizers of Your Anon News turned to fundraising website Indiegogo. Hoping to raise only $2,000, the group brought in $54,668, demonstrating a public appetite for an Anonymous-branded news organization.

Anonymous, identified most notably with the Guy Fawkes mask from "V for Vendetta," is a controversial group of loosely organized online activists who have been credited with hacking government sites, and sites belonging to other groups they disagree with.
BEFORE YOU GO
PHOTO GALLERY
9 Gadgets To Help You Avoid Surveillance